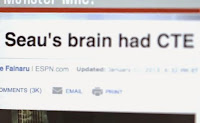 VIDEO+ARTICLE:
CTE (Chronic Traumatic Encephalopathy) is a dementia caused by concussions and repeated hits to the head. Football forced CTE into the spotlight this week, with experts announcing that 6,000 players will get dementia. Find out how this happened and what we are doing about it.
---
PHILADELPHIA (AP) — The NFL estimates that nearly three in 10 former players will develop debilitating brain conditions, and that they will be stricken earlier and at least twice as often as the general population.

Continued below video…
The disclosure Friday comes in separate actuarial data the league and players' lawyers released as part of their proposed $765 million settlement of thousands of concussion lawsuits.
Both the league and lead players' lawyers expect about 6,000 of the 19,400 retired players, or 28 percent, to develop Alzheimer's disease or at least moderate dementia. Dozens more will be diagnosed with Lou Gehrig's or Parkinson's disease during their lives, according to the data.
Read more at the Associated Press >>
VIDEO SOURCE:
Vox Media