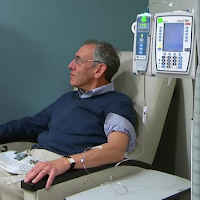 CNN VIDEO + INFO:
Amyloid plaque buildup on the brain can begin decades before it actually triggers Alzheimer's. See how The A4 Trial hopes to clear plaque long before it can cause any trouble.
---
The A4 study is a clinical trial for older individuals who may be at risk for Alzheimer's disease. The study aims to prevent the memory loss associated with Alzheimer's.
Continued below video…
The purpose of the Anti-Amyloid Treatment in Asymptomatic Alzheimer's study (the "A4 study" for short) is to test whether a new investigational treatment, called an anti-amyloid antibody, can slow memory loss caused by Alzheimer's disease. Amyloid is a protein normally produced in the brain that can build up in older people, forming amyloid plaque deposits. Scientists believe this buildup of deposits may play a key role in the eventual development of Alzheimer's disease-related memory loss.
The overall goal of the A4 study is to test whether decreasing amyloid with antibody investigational treatment can help slow the memory loss associated with amyloid buildup in some people.