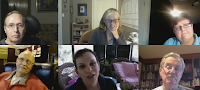 VIDEO CONFERENCE CALL:
Last week, Alan Beamer's impassioned Alzheimer's video to friends went viral. It quickly got the attention of a half-million views. Today, a group of people with dementia offer their heartfelt response to Alan. See this video challenging the problem of friends dropping away after a diagnosis of dementia. It confronts the stigma of dementia head on.
---
Watch the video below to see people with dementia expressing their feelings, gratitude and thoughts on Alan Beamer's hugely popular Alzheimer's "shout-out" for companionship. To see the original video, click here for, "Drop in on Friends with Alzheimer's".
Continued below video…