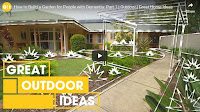 12 TIPS FOR BUILDING AN ALZHEIMER'S GARDEN – VIDEO:
This isn't any ordinary garden! It's home to a very special group of people living well with Alzheimer's. You won't want to miss this heart-warming makeover, full of planting tips, landscaping advice and styling ideas that you can use at home, too.
---
Each video ends with a link to the next part. There are 6 videos in all.
SOURCE: