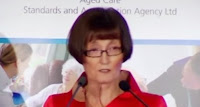 LIVING-WITH-DEMENTIA VIDEO:
Christine Bryden, Senior Executive to Australia's Prime Minister & mother of 3, got dementia at 46. She then married, published books & became a grandma. Six years after diagnosis, hear her feelings & helpful advice.
---
Following her diagnosis with Alzheimer's disease, Christine wrote her first book, "Who Will I Be When I Die?" (published by HarperCollins in 1998 under her maiden name of Boden, with a revised edition by Jessica Kingsley Publishers in 2012). Since then, she has been a strong advocate for people with dementia, addressing conferences around the world and appearing in the media.
Continued below video…
She married Paul 4 years after her diagnosis. Elected to the Board of Alzheimer's Disease International, she served with distinction for 2 years. Slowly declining, she managed, with Paul's help, to continue to talk about what it feels like and what you can do to help.
Mrs. Bryden published "Dancing with Dementia" under her new married name. This was in response to many requests for updates on her new life in the slow lane of dementia. In fact it was commissioned by the Japanese publisher of her first book, for launch at the international conference in Kyoto. It talks of how she met Paul, and describes what it is like to have dementia and what you can do to help.
More than 25 years later, Ms. Bryden now has lived long enough to become a grandmother — defying all medical expectations and still recounting her experiences in articles and additional publications. Life in the slow lane of dementia has become fulfilling in so many ways.
To read more about Christine's journey and where she was up to in 2020, click here.
More books by Christine Bryden: