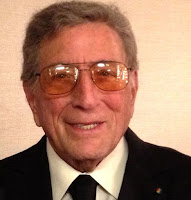 MUSIC VIDEO:
World-famous crooner Tony Bennett still has the pipes and the power, even at age 95, and even with Alzheimer's. Watch now.
---
Renowned vocalist Tony Bennett, master of big band, jazz, pop and show tunes, still has that swing even at age 95, and with Alzheimer's, as 60 Minutes' Anderson Cooper discovered.
Diagnosed in 2017, the beloved crooner performed his final performance at Radio City Music Hall with his friend, Lady Gaga, in August 2021.
As he has done for seven decades, Tony Bennett still captured the audience in a single heartbeat and amazed his duet partner with the magic still intact.