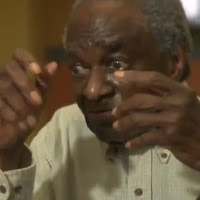 VIDEO & ARTICLE
"I love my iPhone" are words on the lips of many a good person. Find out why their enthusiasm for the new iPhone 5 expands music therapy for people with dementia.
---
With the launch of the iPhone 5, all the old iPhones, iPods, and digital devices sitting around are suddenly ready to be put to a bautiful, charitable use. Music & Memory is a non-profit organization that puts these donated musical machines into the hands of people suffering with Alzheimer's and dementia, having found that patients "come alive" and experience increased socialization after listening to the songs of their youth.
Music & Memory, the non-profit "re-awakening" elders with dementia through the use of music and iPods, scored an unlikely video hit this spring. Based on the film "Alive Inside", the video has been viewed more than six million times. It features Henry, an unresponsive 94-year-old suffering from dementia in an elder care facility who was given an iPod loaded with the music of his youth and was transformed into a seemingly different person, humming, singing, smiling, and beginning to interact with the people around him. Watch the video:
The story of Music & Memory has spread and drawn attention from The New York Times, LA Times, CNN, NPR "Morning Edition," and more. Now, Music & Memory is embarking on an ambitious drive to encourage iPod donation drives nationwide and in the media in order to provide iPods to nursing homes.
Music & Memory has shown that providing the elderly with the music of their youth, regardless of physical, cognitive, or social condition, leads to vastly improved quality of life. The organization's strategy is to introduce iPods, iPads, and other personalized music devices to individuals suffering with cognitive disorders including Alzheimer's and dementia using inexpensive and non-intrusive tactics.
The viral video above is taken from the 2012 documentary, "Alive Inside", directed by Michael Rossato-Bennett, which documents Cohen's mission of reconnecting those with memory loss with the music they love. Time Magazine observed "the music worked like a jolt of electricity for patients, transporting them back in time and even allowing them to speak animatedly after the music was turned off."
Between 2007 and 2010, more than 50 million iPods were sold annually worldwide, and more than 40 million were sold in 2011. As many of these devices are outdated or replaced by now, Music & Memory encourages donations of new and gently used iPods, iPads, and other Apple music players on an ongoing basis. Click here to learn how to contribute:

http://www.musicandmemory.org/give-an-ipod.html


See how Music & Memory was recently profiled on 'The Doctors' (CBS) TV show, as part of their "Incredible Medical Stories" episode: