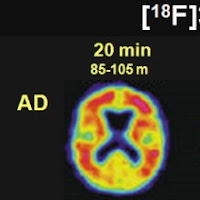 GE has new F18 technology to detect Alzheimer's plaque. It lets doctors see "how much" Alzheimer's a person has. Eisai (maker of Aricept®) is working on their next Alzheimer's drug, code-named E2609. Will the GE-Eisai partnership in the E2609 Alzheimer's Clinical Trial speed this new treatment to market?
---
GE Healthcare announced a research collaboration agreement with Eisai Inc. for use of the GE Healthcare investigational PET amyloid imaging agent, [18F]flutemetamol, to help select patients for a phase I clinical trial being conducted by Eisai. The trial evaluates Eisai's investigational compound E2609, a BACE (beta-site amyloid precursor protein-cleaving enzyme) inhibitor for the potential treatment of Alzheimer's disease (AD). The accumulation of beta amyloid in the brain is believed to play a role in the degeneration of neurons and is one of several pathological characteristics implicated in the development of AD.
"Alzheimer's disease is an important area of research for the industry and specifically for GE Healthcare," said Pascale Witz, President and CEO of GE Healthcare, Medical Diagnostics. "This partnership may ultimately support the market entry of important therapies, and potentially, expedited time to market because the right patients have been identified for participation in clinical trials. Under terms of the agreement, GE Healthcare's proprietary software technology will be used during the trial to help support imaging data analysis."
"Eisai has a long-standing commitment to Alzheimer's disease," said Lynn Kramer, MD, Chief Clinical Officer and President of the Neuroscience and General Medicine Product Creation Unit at Eisai Product Creation Systems. "Imaging plays a key role in our efforts to better understand the progression of the disease and identify potential patients for our clinical trials. Through this collaboration, Eisai hopes to bring important new treatment options to patients and caregivers who are affected by this devastating disease."
GE Healthcare takes a comprehensive approach to understanding a variety of neurological disorders such as Alzheimer's disease, Parkinson's disease, post-traumatic stress disorder, concussion, traumatic brain injury and Multiple Sclerosis through its ongoing research to uncover the causes, risks, and physical effects of these conditions. By collaborating with the pharmaceutical industry to assist in their development of the next generation of therapies to treat these disorders and working with potential partners in the industry, GE Healthcare can provide imaging support for clinical trials of therapeutic agents.
For more information about Eisai's Phase I trial, which is currently recruiting participants, please visit www.ClinicalTrials.gov.

ABOUT GE HEALTHCARE
GE Healthcare provides transformational medical technologies and services to meet the demand for increased access, enhanced quality and more affordable healthcare around the world. GE (NYSE: GE) works on things that matter – great people and technologies taking on tough challenges. From medical imaging, software & IT, patient monitoring and diagnostics to drug discovery, biopharmaceutical manufacturing technologies and performance improvement solutions, GE Healthcare helps medical professionals deliver great healthcare to their patients.
SOURCE:
GE Healthcare