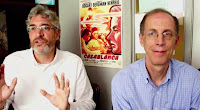 VIDEO (INTERVIEW)
The help-dementia-with-music movie, "Alive Inside", opens today at the Maine International Film Festival. See Bill Newcott interview the makers of the film to get the story behind it. Watch new highlights from the movie.
---
The new documentary "Alive Inside" tells the story of social worker Dan Cohen's crusade to help Alzheimer's patients reclaim their most precious musical memories, thanks to IPods programmed with songs from their youth.
He and director Michael Rossato-Bennett sat down with "Movies for Grownups" host Bill Newcott to talk about the film and share some of its most moving moments.