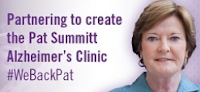 VIDEO & ARTICLE:
Rising above her Alzheimer's, Pat Summit is renewing her contract as Tennessee's Head Coach Emeritus. See the most successful basketball coach in history discuss her battle with dementia. Check out her inspiring book, "Sum It Up".
---
Pat Summitt, diagnosed with dementia, will remain Tennessee women's basketball Head Coach Emeritus next season. On top of that, the Associated Press reports, she gets to keep the position as long as she wants it.
Continued below video…
That's according to a new contract signed recently and made available to the press through a public records request. In her contract, Summitt will have the title of Head Coach Emeritus "in perpetuity, or until she chooses to relinquish it."
Summitt will make $75,000 each year under terms of the contract.
Pat Summitt earned the title, "The Winningest Coach in Basketball History" in her 38-season tenure coaching Tennessee's Lady Vols. She has served as Head Coach Emeritus since April 2012, one year after announcing she had early-onset Alzheimer's. She is also active as the honorary founder of WomenAgainstAlzheimer's and the Pat Summitt Foundation.
To learn more about the Pat Summitt Foundation, visit www.patsummitt.org.
About The Pat Summitt Foundation
The Pat Summitt Foundation, a fund of East Tennessee Foundation, was established by Pat Summitt and her son, Tyler Summitt, in November 2011. Dedicated to winning the fight against Alzheimer's disease, its mission as a grant-making foundation is to advance research for prevention and a cure; to provide hope, care, and critical support for patients, caregivers and families; and to educate the public on the impacts of Alzheimer's disease and the urgent need for a cure. Pat Summitt, her family and friends have chosen East Tennessee Foundation to receive and manage contributions to Pat's fund, and to facilitate their grantmaking in support of the mission. To learn more visit the website at www.patsummitt.org