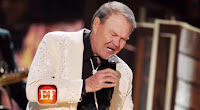 VIDEO:
Three years ago, music icon Glen Campbell was diagnosed with Alzheimer's. He was told to hang up his guitar and prepare for the inevitable. Instead, Glen and his wife, Kim, went public with the diagnosis and announced that he and his family would set out on a Good Bye Tour. See what happened.
---
Even the optimist's predicted Glenn Campbell's 151-show tour would only last a couple of months. Not only did Glen exceed everyone's expectations, but what began as a six-week tour quickly grew into a triumphant year of him playing sold out venues across America. The new film, "I'll Be Me", documents this extraordinary journey, as Glenn and his family attempt to navigate the wildly unpredictable nature of his progressing disease using love, laughter, and music as their medicine of choice.
Continued below video…
Find out more
on the website
or
on Facebook
.
I'll Be Me will appear in theaters starting October 24th.
Click here for Top Albums by Glenn Campbell