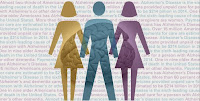 VIDEO+ARTICLE
5 million Americans are living with Alzheimer's. More than triple that amount are caregivers. Check out the statistics & learn the facts. Help wipe out Alzheimer's.
---
The Human Toll of Alzheimer's
Alzheimer's has far reaching
effects that can plague entire families.
There are more than 5 million Americans living with Alzheimer's disease, including 3.2 million women and
200,000 people under the age of 65 with younger-onset Alzheimer's disease/
There are currently 15.5 million caregivers providing 17.7 billion hours of
unpaid care in the U.S., often at the detriment of their own health.
Alzheimer's disease is the sixth leading cause of death in the United States, yet it is still widely misunderstood
and underreported.
The Financial Toll of Alzheimer's
The physical and emotional impact of dementia
caregiving resulted in an estimated $9.3 billion in increased healthcare costs for Alzheimer's caregivers in 2013.
The total national cost of caring for people with Alzheimer's and other dementias is projected to reach $214
billion this year, not including unpaid caregiving by family and friends valued at more than $220 billion.
In 2014,
the cost to Medicare and Medicaid of caring for those with Alzheimer's and other dementias will reach a
combined $150 billion with Medicare spending nearly $1 in every $5 on people with Alzheimer's or another
dementia.
The Future Toll of Alzheimer's
The numbers above are set to soar as the baby boomers continue to enter the age of greatest risk for Alzheimer's
disease.
Unless something is done to change the course of the disease, there could be as many as 16 million
Americans living with Alzheimer's in 2050.
Costs may reach $1.2 trillion (in current dollars) to the nation.
This
dramatic rise includes a 500% increase in combined Medicare and Medicaid spending and a 400% increase in out-of-pocket spending.
The Fight Against Alzheimer's
The country's first-ever National Plan to Address Alzheimer's Disease has a goal of
preventing and effectively treating Alzheimer's disease by 2025. Ensuring strong implementation of the National
Alzheimer's Plan, including adequately funding Alzheimer's research, is the best way to avoid these staggering
human and financial tolls.
Said Angela Geiger, Chief Strategy Officer of the Alzheimer's
Association. "Age is the greatest risk
factor for Alzheimer's, and America is aging. As a nation, we must band together to protect our greatest asset, our
brains."
The full text of the Alzheimer's Association Facts and Figures can be viewed by clicking on the following link. The full report
also appears in the March 2014 issue of Alzheimer's & Dementia: The Journal of the Alzheimer's Association
(Volume 10, Issue 2).
Alzheimer's Association Alzheimer's Disease Facts and Figures Report (PDF DOWNLOAD)
The Alzheimer's Association Alzheimer's Disease Facts and Figures report is a comprehensive compilation of
national statistics and information on Alzheimer's disease and related dementias. The report conveys the impact
of Alzheimer's on individuals, families, government and the nation's health care system. Since its 2007 inaugural
release, the report has become the most cited source covering the broad spectrum of Alzheimer's issues.
MORE INFORMATION:
The Facts
and Figures report is an official publication of the Alzheimer's Association.
The Alzheimer's Association is the world's leading voluntary health organization in Alzheimer's care, support and
research. Our mission is to eliminate Alzheimer's disease through the advancement of research; to provide and
enhance care and support for all affected; and to reduce the risk of dementia through the promotion of brain health.
Our vision is a world without Alzheimer's. For more information, visit www.alz.org.
SOURCE:
Alzheimer's Association