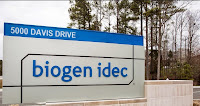 VIDEO & ARTICLE:
BIIB-037 binds to and eliminates Alzheimer's plaque. The experimental drug did a surprisingly good job of improving cognition in recent trials. It is now being rushed into advanced Phase III clinical trials. Watch NBC discuss the breakthrough. Read the key facts.
---
Biogen Idec Inc. reported encouraging interim results from an early-stage study on its anti-amyloid beta antibody, BIIB037. Biogen is evaluating BIIB037 for the treatment of Alzheimer's disease. The data was presented at the Deutsche Bank BioFEST conference.
Continued below video…
According to reports from various sources, interim results from the phase Ib study, which was conducted on 194 Alzheimer patients demonstrated both dose- and time-dependent reductions in beta-amyloid levels in the brain. Moreover, a statistically significant improvement in cognition was observed after 54 weeks of treatment. However, there were some side effects called amyloid related imaging abnormalities (ARIA).
Biogen intends to move the candidate into advanced phase III clinical trials based on the promising results.
According to the Alzheimer's Association, Alzheimer's is the most common form of dementia, affecting nearly 5 million people in the U.S. aged 65 years and above. The successful development of therapies for the treatment of Alzheimer's disease is challenging and several companies including Eli Lilly, Johnson & Johnson, as well as Pfizer, have faced setbacks.
Notwithstanding, experts feel that with BIIB-037, "there should be a greater degree of optimism than we have seen before."