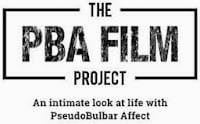 MOVIE TRAILER + ARTICLE:
Two million Americans with Alzheimer's, stroke and other neurologic conditions suffer from symptoms of PBA. They have uncontrollable outbursts of crying or laughing. See the movie trailer and learn more about it.
---
ALISO VIEJO, Calif. — Avanir Pharmaceuticals announced the initiation of production of The PBA Film Project (working title), the first-ever documentary to provide an intimate look at real people living with a little-known neurologic condition called PseudoBulbar Affect (PBA). The award-winning filmmaker team of The PBA Film Project includes co-directors Doug Blush and Lisa Klein (Of Two Minds) and producer Julian Cautherley (The Crash Reel).
Continued below video…
Nearly two million Americans with brain injuries or certain neurologic conditions such as Alzheimer's disease, stroke or multiple sclerosis (MS) are estimated to suffer from symptoms of PBA, marked by frequent and uncontrollable outbursts of crying or laughing. Despite the high prevalence of PBA, PBA diagnosis and awareness that it's a treatable condition is low.
"As filmmakers, we've always been drawn to human interest stories that need a microphone, whether to help raise awareness of an important issue or to inspire people to join a cause," said Doug Blush and Lisa Klein. "We believe that audiences will relate to the real people portrayed in this film as they struggle, triumph and live life to its fullest despite the obstacles of PBA and their underlying neurologic conditions."
The PBA Film Project profiles six patients living with PBA and the following neurologic conditions: stroke, traumatic brain injury (TBI), MS and frontotemporal dementia (FTD), as well as their friends, families and caregivers. The documentary is in production across the country with filming in Virginia Beach, VA; Joplin, MO; Austin, TX; Banning, CA; Tamaqua, PA and Canton, OH.
"It's inspiring to see how these patients persevere in life despite a condition that triggers unpredictable laughing or crying outbursts that can be inappropriate to the situation they are in or be more intense than the situation calls for," said Julian Cautherley. "While their neurological conditions and backgrounds are diverse, their commonality of living with PBA unites them all. I think this is something the audiences will genuinely rally behind."
Production for The PBA Film Project commenced in August 2014 and will be released to select audiences in 2015. A visually powerful experience, The PBA Film Project promises to engage and entertain, with moments of both sadness and humor.
"Avanir Pharmaceuticals is excited to be a part of a project that will shine a spotlight on PBA and the vast community it impacts," said Rohan Palekar, chief commercial officer of Avanir. "Our goal with The PBA Film Project is to create greater awareness of PBA, let patients know they are not alone and inspire them to seek help."
For film updates and behind-the-scenes content, visit pbafilm.com or @PBAinfo.
MORE INFORMATION:
About PBA 
PBA is a neurologic condition characterized by uncontrollable, disruptive laughing and/or crying outbursts that are often contrary or exaggerated to the patient's inner mood state. As a result, many of those afflicted with PBA show significant impairment on standard measures of health status, and impairments in occupational and social function, often leading to social isolation. PBA occurs secondary to a variety of neurologic conditions such as traumatic brain injury (TBI), multiple sclerosis (MS), amyotrophic lateral sclerosis (ALS), Parkinson's disease, stroke and Alzheimer's disease. When these disorders damage areas of the brain that regulate normal emotional expression, they can lead to uncontrollable, disruptive episodes of crying or laughing. For more information about PBA, please visit www.pbainfo.com and follow @PBAinfo.
About the Filmmakers 
Doug Blush and Lisa Klein are award–winning filmmakers whose work has played at world–renowned film festivals including Sundance, Toronto and Tribeca. They are the creative team behind the critically acclaimed feature documentary OF TWO MINDS (2012), which takes a compelling look at the extraordinary lives of a few of the more than five million Americans living with bipolar disorder. OF TWO MINDS is the 2013 winner of many honors, including the prestigious Prism and Voice Awards, both of which honor filmmakers for their authentic storytelling of mental illness and substance abuse issues.
Julian Cautherley is an award-winning director and producer whose projects have appeared at world–renowned film festivals, including Sundance, Deauville, Berlin, SXSW and Tribeca. Julian's most recent film as producer is the award-winning, Emmy–nominated documentary THE CRASH REEL (2013), which follows the dramatic fall and rise of snowboarder Kevin Pearce, a traumatic brain injury survivor. Directed by two–time, Oscar–nominated filmmaker, Lucy Walker, THE CRASH REEL, a DGA and Gotham Awards-nominated film, premiered at the Sundance film festival and received audience awards at SXSW, among others.
About Avanir Pharmaceuticals, Inc. 
Avanir Pharmaceuticals, Inc. is a biopharmaceutical company focused on bringing innovative medicines to patients with central nervous system disorders of high unmet medical need. As part of our commitment, we have extensively invested in our pipeline and are dedicated to advancing medicines that can substantially improve the lives of patients and their loved ones.
SOURCE:
AVANIR® is a trademark or registered trademark of Avanir Pharmaceuticals, Inc. in the United States and other countries.