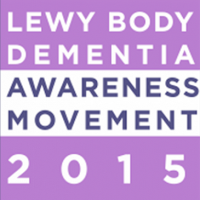 Announcing the kickoff of the October Lewy Body Dementia Awareness Month, appropriately themed, "Let's Beat Lewy!" Get the details.
---
LBDA are the initials of America's Lewy Body Dementia Association. Raising awareness is a crucial part of LBDA's mission. This year's Awareness Movement builds on impressive momentum from LBDA's national advertising and public relations initiative, known as the "Lewy Who?" campaign. October begins the second round of the "Lewy Who?" campaign in hopes to generate another 100+ million impressions!
LBDA NEEDS YOU
Volunteers are the heart of LBDA's service and the soul of its mission. LBDA introduces Lewy Body dementia (LBD) to the public, the healthcare profession, and the media as the number-two cause of progressive dementia. And they bring hope to families who feel alone in their battle with LBD.
WAYS TO GET INVOLVED
Join volunteers nationwide by shining a light on LBD in your community. Your support strengthens LBDA's ability to develop expanded educational resources, offer essential supportive services to LBD families, advocate for change in Washington, and advance research gains.

Let's Beat Lewy!