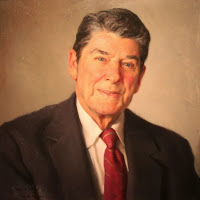 NEWS VIDEO + ARTICLE:
Leading Hollywood comedian Will Ferrell is on the run from an Alzheimer's firestorm. Outrage over a Hollywood satire of former President Ronald Reagan's dementia has resulted in Mr. Ferrell's official refusal to continue to star in the film. (In the movie, Reagan is suffering from Alzheimer's and is led to believe he's an actor playing The President.) Ferrell's change of heart follows appeals from Reagan's children that may ultimately prevent the film from ever getting made. See more about the intense backlash.
---
Harry Johns, Alzheimer's Association president and CEO, spoke strong words to Hollywood regarding the propsed comedy on Ronald Reagan's Alzheimer's.
"The Alzheimer's Association is appalled that anyone would plan to develop a film that satirizes an individual living with Alzheimer's or another dementia. Would filmmakers consider using a fatal form of cancer or another deadly disease for comedy? It's time to stop this forever.
Continued below video…
"The idea that a film depicting President Ronald Reagan's Alzheimer's, or anyone with dementia, as a comedic device is offensive. More than 5 million Americans are living with the disease, and their 15 million family caregivers provide support every day. This disease is not a joke. In addition to its devastating impact, it is fatal. The Alzheimer's Association will rally against anyone who marginalizes the devastating and deadly impact of Alzheimer's disease.
"President Reagan and his family were champions in raising awareness about Alzheimer's disease and the need to fund research for its cure. The Alzheimer's Association and our advocates will continue to work to ensure all those living with this disease have the care and support they need while striving toward our vision of a world without Alzheimer's."
Also See:
SOURCE: