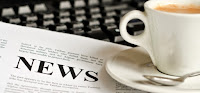 People often ask for a printed Alzheimer's Weekly. Sometimes it is for a parent who is not comfortable with the internet. Other times, it is to hand out at a meeting or support group.
Here is our modest effort to help fill the need. Though it lacks glossy edge-to-edge graphics, it is rich in content and well-balanced. It is designed to keep you up-to-date on the latest research, medicines, therapies, care tips, prevention techniques, and so much more.
---
The Weekly comes as a simple, printable PDF file. Just click the link below and print.
Goals
The Print Edition's weekly batch of news, tips and insights should help anyone living with Alzheimer's and dementia. Our hope is that it will be of particular benefit to support groups.
Dementia support groups are a great challenge. It is so easy to let dementia's challenges take the group's conversation down a de-energizing, counterproductive path.
This Print Edition is meant to create talking points and conversation pieces that are hopeful, energizing and practical.
The Format
The Print Edition is typically about 10 pages long, providing fresh material for weekly discussions, while keeping the length down to an inexpensive and easy-to-print size.
The colorful cover page always sports a lifting "Thought of the Week" photo and saying. Beneath it is a recommended "Book of the Week" book cover, related to Alzheimer's and dementia.
The Table of Contents lets you know what's inside and where to look for it, as well as offering a list of a few of the week's latest videos. They appear on the website for free.
Typical articles discuss research news, as well as diet and recipe insights, prevention and care tips, and the latest in medication and treatment.
Feedback
The Print Edition is an ongoing project. Your help in improving it is greatly appreciated. Please suggest ways to make it better. Stories about how you use it in real-life situations, such as support groups, are great. Simply enter comments below.
Thank you.
Sincerely,
Peter Berger
Editor
alzheimersweekly.com
To subscribe (free) to the Weekly Printed Edition,
or go to: