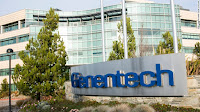 DRUG NEWS: Genentech will showcase the breadth and promise of their Neuroscience Portfolio at the 2019 American Academy of Neurology Annual Meeting. It includes new drugs to fight dementia from Huntington's disease, Alzheimer's disease, as well as stroke that can lead to vascular dementia.
---
SOUTH SAN FRANCISCO, Calif. (BUSINESS WIRE) – Genentech, a member of the Roche Group, announced that new data for its approved and investigational medicines for the treatment of neurological conditions will be presented at the 71st American Academy of Neurology (AAN) Annual Meeting from May 4-10 in Philadelphia, PA. Presentations include new data for investigational medicines for:
Huntington's disease (HD)
Alzheimer's disease (AD)
Stroke that can cause Vascular dementia
New Treatment Options
"Every development is a collective step forward," said Sandra Horning, M.D., chief medical officer and head of Global Product Development. "We continue to invest in research and partnerships to develop new treatment options for these diseases that severely reduce quality of life. We are pleased to contribute to the greater understanding and clinical progress of neurologic diseases at this year's AAN Annual Meeting to help make a difference in the lives of people and families impacted by these conditions."
New Data in Dementia from Huntington's Disease
New data from Genentech in Huntington's disease (HD) supports the dose selection for their Phase III trial. Phase III trials are the most important stage in testing a new drug and bringing it to market. The new data will also provide insights on mutant huntingtin protein (mHTT) reduction, a potential key to significant advances in better treatments for Huntington's disease.
The HD platform session will include results from a translational modeling approach developed from preclinical data. It includes clinical data on the new drug, which is code-named RG6042, from the ongoing, open-label extension study in HD patients. Genentech will include a safety update and important date on mutant huntingtin (mHTT) protein reduction in the cerebrospinal fluid.
These data also support the dose selection for the recently initiated Phase III GENERATION HD1 clinical trial investigating RG6042 in manifest HD.
RG6042 (formerly known as Ionis HTT-Rx) is an antisense oligonucleotide (ASO) designed to reduce the production of the toxic mHTT protein. This protein causes the disease in people with HD. Genentech's drug works by targeting human huntingtin RNA.
Gantenerumab for Alzheimer's
Two new studies are testing gantenerumab to treat Alzheimer's disease (AD). Data and safety findings from the gantenerumab SCarlet RoAD and Marguerite RoAD open-label extension studies will be presented. These studies show consistently large amyloid reductions in AD patients with and without ARIA-E. Genentech continues to advance the development of gantenerumab in the Phase III GRADUATE trials. They are also advancing the anti-tau molecule RO7105705 (MTAU9937A, RG6100) into its second Phase II clinical trial (called LAURIET) The LAURIET clinical trial is currently enrolling patients with moderate Alzheimer's.
Crenezumab for Alzheimer's
Crenezumab continues to be studied in a landmark Alzheimer's Prevention Initiative trial of cognitively healthy individuals in Colombia with an autosomal dominant mutation who are at risk to develop familial AD (fAD). While Genentech's study of crenezumab is halted, it is still providing crucial data that has true potential to advance the Alzheimer's Prevention Initiative.
The study design, methodology and baseline characteristics from the crenezumab Phase III CREAD study will be presented in a poster at AAN. Additional analyses, including biomarker data, will be presented at future medical conferences.
Stroke (Vascular Dementia)
Stroke is a leading cause of vascular dementia.
Genentech recently initiated the Phase III TIMELESS trial to evaluate TNKase® (tenecteplase) in people with acute ischemic stroke (AIS). They are focusing on people treated from four and a half up to 24 hours after the onset of symptoms, using advanced imaging technology to identify eligible patients. There are currently no FDA approved medicines for people with AIS beyond three hours after the onset of symptoms.
Genentech's 23-year history in AIS was established with Activase® (alteplase). This drug is the current standard-of-care in the United States, and the first and only clot-dissolving tissue plasminogen activator (tPA) approved for use in AIS for up to three hours after the onset of symptoms.
Full session details and data presentation listings for the 2019 AAN Annual Meeting can be found at the meeting website:
SOURCE:
About Genentech in neuroscience
Neuroscience is a major focus of research and development at Genentech and Roche. The company's goal is to develop treatment options based on the biology of the nervous system to help improve the lives of people with chronic and potentially devastating diseases. Genentech and Roche have more than a dozen investigational medicines in clinical development for diseases that include multiple sclerosis, spinal muscular atrophy, neuromyelitis optica spectrum disorder, Alzheimer's disease, Huntington's disease, Parkinson's disease, Duchenne muscular dystrophy and autism.
About Genentech
Founded more than 40 years ago, Genentech is a leading biotechnology company that discovers, develops, manufactures and commercializes medicines to treat patients with serious and life-threatening medical conditions. The company, a member of the Roche Group, has headquarters in South San Francisco, California. For additional information about the company, please visit http://www.gene.com.