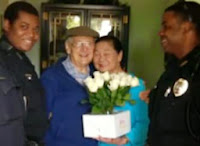 MOTHER'S DAY USA VIDEO:
Melvyn Amrine may not have remembered the details of his life since his Alzheimer's diagnosis, but he sure proved that his love for his wife transcended memory.
---
NOTE FROM ALZHEIMER'S & DEMENTIA WEEKLY
We continue to post this heartwarming video to honor Melvyn's memory and his love for his wife. Melvyn passed away peacefully on March 26, 2020.