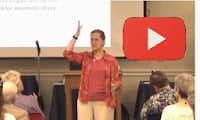 TEEPA CARE-TIP VIDEO:
Dementia dangerously alters a person's sense of smell. Teepa Snow brings to light what people with dementia smell – and what they don't. Learn to prevent hazards and frustrations.
---
See Teepa Snow DVDs on Amazon.com. Click here.
MORE INFORMATION:
Teepa Snow,
MS, OTR/L, FAOTA is a nationally acclaimed Alzheimer's and dementia care specialist. With over 30 years of experience, Teepa Snow teaches her students how a person with dementia perceives his/her world and how caregivers can best provide dignity and the best quality of life.
SOURCE:
This video is an excerpt of a Teepa Snow seminar called, "Making Visits Valuable", given for the Alzheimer's Support Network.