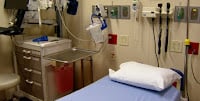 GROUNDBREAKING VIDEO:
Safe hospital stays with dementia should focus on preventing the all-too-common side-effects of delirium. See a special ER for seniors, equipped with brilliant features that speed comfort and care to this population.
---
DENVER – Researchers have discovered that hospital stays for people with Alzheimer's can be hazardous. So much so that an alarming percentage of those patients die within one year of their hospital visits.
Continued below video…

The problem is a condition called "delirium"- a state of extra confusion and agitation brought on by the intensity of hospital stays, most especially the busy environment in hospital E.R.'s. In fact, the problem of delirium is so severe for patients who already have a damaged brain, that both researchers and independent Alzheimer's experts agree that caregivers need to know the risk so they can help a loved one with dementia avoid the hospital altogether if possible.
Doctors at Lutheran Medical Center, who serve the biggest senior population in the metro area, have made changes to help their older patients avoid the delirium diagnosis if they have no choice but to go the hospital.
They've essentially taken their traditional 42,000-square-foot emergency room and cut it in half, leaving one side equipped as a traditional ER, and turning the other half into a "Senior ER."
SOURCE:
KUSA TV – 9NEWS Senior Source Correspondent Mark Koebrich