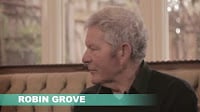 VIDEO:
Watch Robin and Lis discuss their long road to getting a correct LBD dementia diagnosis. This diagnosis can be vital, yet 50% of people with Lewy Body Dementia are originally misdiagnosed.
---
Lewy body disease is a common neurodegenerative disease of ageing. This means that the disease causes gradual brain damage. For reasons not fully understood, it occurs when there is an abnormal build up of a protein called alphasynuclein in brain cells.
Continued below video…
These abnormalities occur in specific areas of the brain, causing changes in movement, thinking and behaviour. Lewy body disease is one of the most common types of dementia. Unlike Alzheimer's disease, it is not well known.
Lewy body disease includes three overlapping disorders:
Dementia with Lewy bodies
Parkinson's disease
Parkinson's disease dementia
This overlap results in the disease being called a spectrum disease.
In this video, Robin Groves and his wife Lis discuss how they finally obtained a Lewy body disease diagnosis, and discuss some of the challenges they have faced.
To learn the warning signs of Lewy Body dementia, the Lewy Body Disease Association offers these helpful indicators:
Lewy Body Dementia Symptoms and Diagnostic Criteria
SOURCE:
Alzheimer's Australia