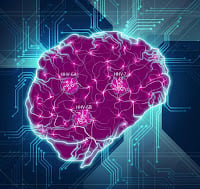 PROGRESS VIDEO + ARTICLE:
American researchers found 'unusually high' levels of two human herpes virus strains in brains of people with Alzheimer's. This opens a robust array of new targets in the search for a cure.
---
The quest to understand what causes Alzheimer's disease–and to treat it–is complicated by the disease's long, slow progression and the difficulty of collecting brain tissue samples. But in a large-scale analysis published in the journal Neuron, researchers at the Icahn School of Medicine at Mount Sinai use data from three different brain banks to suggest that human herpesviruses are more abundant in the brains of Alzheimer's patients and may play a role in regulatory genetic networks that are believed to lead to the disease. This work lends support to the controversial hypothesis that viruses are involved in Alzheimer's disease and offers potential new paths for treatment.
"All I Found Were These Lousy Viruses"
"The title of the talk that I usually give is, 'I Went Looking for Drug Targets and All I Found Were These Lousy Viruses.' We didn't set out to find what we found. Not even close. We were trying to find drugs that could be repurposed to treat Alzheimer's patients, but the patterns that emerged from our data-driven analysis all pointed towards these viral biology themes," says co-senior author and geneticist Joel Dudley. who is also a member of the ASU-Banner Neurodegenerative Disease Research Center.
The researchers analyzed data from three major brain banks courtesy of the National Institutes of Health's Accelerating Medicines Partnership – Alzheimer's Disease (AMP-AD) consortium, which allowed them to look at raw genomic data for large numbers of Alzheimer's patients in different cohorts. They constructed, mapped, and compared regulatory gene networks in areas of the brain known to be affected by Alzheimer's on multiple levels, looking at DNA, RNA, and proteins.
Search for Sequences from Hundreds of Different Viruses
"This kind of analysis was only possible because the consortium had coordinated for all of these other groups to put their sequencing data in the AMP-AD Knowledge Portal in a precompetitive environment that let us very quickly replicate our work across all these different cohorts. We needed access to sequences that are usually discarded in the course of studying the human genome. We needed to search for sequences from hundreds of different viruses, so having access to that raw, unprocessed data was absolutely key," says first author Ben Readhead.
They found that human herpesvirus DNA and RNA were more abundant in the brains of those diagnosed postmortem with Alzheimer's disease and that abundance correlated with clinical dementia scores. And the two viruses they found to be most strongly associated with Alzheimer's, HHV-6A and HHV-7, were not as abundant in the brains of those with other neurodegenerative disorders. When they constructed networks that modeled how the viral genes and human genes interacted, they were able to show that the viral genes were regulating and being regulated by the human genes–and that genes associated with increased Alzheimer's risk were impacted.
Viruses are Accelerating the Brain Towards Alzheimer's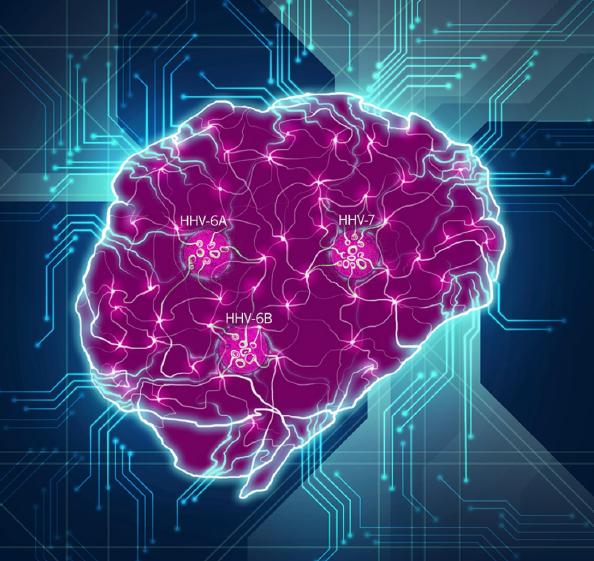 The brain is shown here as a complex network of interactions, with disruption of connections by the key viral species (HHV-6A, HHV-6B, HHV-7) identified in this study.
(CREDIT: Readhead et al. Click to enlarge.)
"Previous studies of viruses and Alzheimer's have always been very correlative. But we were able to do statistical causal inference testing and more sophisticated analysis, which allowed us to identify how the viruses are directly interacting with or coregulating or being regulated by Alzheimer's genes. I don't think we can answer whether herpesviruses are a primary cause of Alzheimer's disease. But what's clear is that they're perturbing networks and participating in networks that directly accelerate the brain towards the Alzheimer's topology," says Dudley.
The researchers believe that their findings align with other current research in the Alzheimer's field on the role of innate immunity in the disease, particularly recent findings that beta-amyloid protein–the culprit behind the plaques that build up in the Alzheimer's-affected brain–may accumulate as part of a defense against infections. In their study, they found that herpesviruses were involved in networks that regulate amyloid precursor proteins.
No New Worries
They argue, however, that their work shouldn't make anyone worried. "While these findings do potentially open the door for new treatment options to explore in a disease where we've had hundreds of failed trials, they don't change anything that we know about the risk and susceptibility of Alzheimer's disease or our ability to treat it today," says co-senior author and Alzheimer's disease specialist Sam Gandy.
This is especially true because HHV-6A and HHV-7 are extremely common and often latent or asymptomatic: in North America, almost 90% of children have one of these viruses circulating in their blood by the time they're a few years old. "There are still a lot of unanswered questions around how we go from being able to detect it circulating in someone's blood to knowing whether it's active in a state that might be relevant to Alzheimer's disease," says Readhead.
Alzheimer's & Viruses: Specific and Testable
But even if questions remain, this research offers strong support for a long-controversial hypothesis that viruses might be involved in the development of Alzheimer's disease. "We didn't have a horse in this virus race whatsoever. It's the data that took us there. And now, not only is the viral hypothesis resurrected: it has specific testable pathways and networks and interactions that can be explored and reconciled with the rest of the work emerging in Alzheimer's," says Dudley.
"All these Alzheimer's brains in these separate, major brain banks have previously unsuspected substantial populations of herpesvirus genomes and that deserves an explanation wherever it falls in the pathogenesis. It doesn't deserve to just be brushed away," says Gandy.
Unbiased Approaches, Large Data Sets
"The hypothesis that viruses play a part in brain disease is not new, but this is the first study to provide strong evidence based on unbiased approaches and large data sets that lends support to this line of inquiry," said NIA Director Richard J. Hodes, M.D. "This research reinforces the complexity of Alzheimer's disease, creates opportunities to explore Alzheimer's more thoroughly, and highlights the importance of sharing data freely and widely with the research community."
Alzheimer's disease is an irreversible, progressive brain disorder that slowly destroys memory and thinking skills and, eventually, the ability to carry out simple tasks. More evidence is accumulating to indicate that this loss of cognitive functioning is a mix of many different disease processes in the brain, rather than just one, such as buildup of amyloid or tau proteins. Identifying links to viruses may help researchers learn more about the complicated biological interactions involved in Alzheimer's, and potentially lead to new treatment strategies.
The research group, which included experts from Icahn School of Medicine at Mount Sinai, New York City, and Arizona State University, Phoenix, originally set out to find whether drugs used to treat other diseases can be repurposed for treating Alzheimer's. They designed their study to map and compare biological networks underlying Alzheimer's disease. What they found is that Alzheimer's biology is likely impacted by a complex constellation of viral and host genetic factors, adding that they identified specific testable pathways and biological networks.
Robust Findings
"The robust findings by the Mount Sinai team would not have been possible without the open science data resources created by the AMP-AD program–particularly the availability of raw genomic data," said NIA Program Officer Suzana Petanceska, Ph.D., who leads the AMP-AD Target Discovery and Preclinical Validation Project. "This is a great example of the power of open science to accelerate discovery and replication research."
The researchers used multiple layers of genomic and proteomic data from several NIA-supported brain banks and cohort studies. They began their direct investigation of viral sequences using data from the Mount Sinai Brain Bank and were able to verify their initial observations using datasets from
They were then able to incorporate additional data from the Emory Alzheimer's Disease Research Center to understand viral impacts on protein abundance. Through the application of sophisticated computational modeling the researchers made several key findings, including:
Human herpesvirus 6A and 7 were more abundant in Alzheimer's disease samples than non-Alzheimer's.
There are multiple points of overlap between virus-host interactions and genes associated with Alzheimer's risk.
Multiple viruses impact the biology of Alzheimer's disease across domains such as DNA, RNA and proteins.
No Evidence to Reassess Risk
Important roles for microbes and viruses in Alzheimer's disease have been suggested and studied for decades, the authors noted. Since the 1980s, hundreds of reports have associated Alzheimer's with bacteria and viruses. These studies combined suggest a viral contribution but have not explained how the connection works.
While the current findings are more specific, they do not provide evidence to change how risk and susceptibility are assessed, nor the diagnosis and treatment of Alzheimer's, the authors said. Rather, the research gives scientists reason to revisit the old pathogen hypothesis and will be the basis for further work that will test whether herpes virus activity is one of the causes of Alzheimer's.
MORE INFORMATION
:
Note: This article describes a basic research finding. Basic research increases our understanding of human behavior and biology, which is foundational to advancing new and better ways to prevent, diagnose, and treat disease. Science is an unpredictable and incremental process — each research advance builds on past discoveries, often in unexpected ways. Most clinical advances would not be possible without the knowledge of fundamental basic research.
About AMP-AD: The Accelerating Medicines Partnership is a joint venture among the National Institutes of Health, the Food and Drug Administration, 12 biopharmaceutical and life science companies and 13 non-profit organizations, managed by the Foundation for the NIH, to identify and validate promising biological targets of disease. AMP-AD is one of the four initiatives under the AMP umbrella; the other three are focused on type 2 diabetes (AMP-T2D), rheumatoid arthritis and systemic lupus erythematosus (AMP-RA/SLE) and Parkinson's disease (AMP-PD). The AMP-AD knowledge portal already has over 1,300 total users. To learn more about the AMP-AD Target Discovery and Preclinical Validation Project, visit: https://www.nia.nih.gov/research/amp-ad.
About the National Institute on Aging: The NIA leads the federal government effort conducting and supporting research on aging and the health and well-being of older people. The NIA is designated as the lead NIH institute for information on Alzheimer's disease. It provides information on age-related cognitive change and neurodegenerative disease, including participation in clinical studies, specifically on its Alzheimer's website.

Reference:
Readhead et al. Multiscale Analysis of Independent Alzheimer's Cohorts Finds Disruption of Molecular, Genetic, and Clinical Networks by Human Herpesvirus. Published in the journal "Neuron". 2018 Jun. 21. Doi: 10.1016/j.neuron.2018.05.023

Neuron (@NeuroCellPress), published by Cell Press, is a bimonthly journal that has established itself as one of the most influential and relied upon journals in the field of neuroscience and one of the premier intellectual forums of the neuroscience community. It publishes interdisciplinary articles that integrate biophysical, cellular, developmental, and molecular approaches with a systems approach to sensory, motor, and higher-order cognitive functions. Visit: http://www.cell.com/neuron. To receive Cell Press media alerts, contact press@cell.com.
SOURCES:
National Institutes of Health (NIH): NIH, the nation's medical research agency, includes 27 Institutes and Centers and is a component of the U.S. Department of Health and Human Services. NIH is the primary federal agency conducting and supporting basic, clinical, and translational medical research, and is investigating the causes, treatments, and cures for both common and rare diseases. For more information about NIH and its programs, visit www.nih.gov.
NIH…Turning Discovery Into Health®