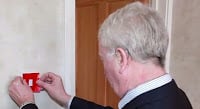 HOME IMPROVEMENT & DEMENTIA – VIDEO:
See simple changes that create a more dementia-friendly environment at home. Get ideas to help you give people living with dementia the best quality of life, emotional well-being and independence.
---
Inexpensive and simple changes to a house can make it so much more dementia-friendly. See this video for good ideas from the Social Care Institute for Excellence. Below the video are Amazon links to helpful items described in this film clip.
Continued below video…
SOURCE:
Social Care Institute for Excellence (SCIE)