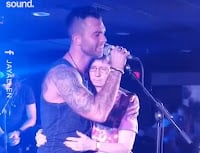 MUSIC VIDEO:
Jay Allen sings to his mother on stage, sharing his thoughts and feelings about her Alzheimer's.
---
Click the speaker in the video's lower right for sound.



MORE INFO:
Singer Jay Allen's mom, Sherry Rich, passed away in February 2019 after her battle with Alzheimer's, according to the Taste of Country website. The singer asked fans in a post on Instagram to celebrate her life and to continue to share her story "until we finally end this thief of a disease." The performer estimated at that time that his song, "Blank Stares," had raised so far more than $25 million in the fight against Alzheimer's.
SOURCE: