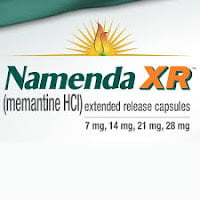 OFF-LABEL MEDICATIONS:
Memantine (Namenda / Ebixa) is FDA-approved for Alzheimer's. Learn how it significantly improves memory and attention in Lewy Body Disease, Parkinson's and various types of dementia.
---
An important study shows that performance on objective tests of attention and memory can be improved by memantine in two other major forms of dementia – Parkinson's disease dementia and dementia with Lewy Bodies. The improvements detected were highly statistically reliable and of clinically relevant effect sizes; indicating that memantine can produce cognitive benefits in patients with these dementias which match those seen previously with anticholinesterases.
Memantine is FDA approved just for Alzheimer's. Doctors may prescribe it "off-label", if in their clinical judgment it may help their patient with Lewy Body dementia or Parkinson's disease.
Both studies utilised the CDR System™, an automated cognitive test system, making a strong case for benefits for the increased sensitivity and specificity that such procedures bring to dementia research, when compared with the traditional tests which have been historically employed.
The results were part of a presentation at an Alzheimer's Association International Conference.
The current consensus guidelines for diagnosis of dementia with Lewy Bodies (DLB) and Parkinson's disease dementia (PDD) identify deficits to attention as core features in both conditions. (2,3). The present study evaluated the effects of memantine in DLB & PDD.
In related trials in both dementias, the CDR System detected significant benefits with rivastigmine on various aspects of attention (4-7).
METHODS
This was a parallel group, double-blind, placebo controlled, multicentre trial of memantine
21 DLB and 30 PDD patients were assessed prior to dosing and again at 12 and 24 weeks
CDR System tests of attention (simple and choice reaction time) and word recognition (immediate and delayed) were administered.
The tasks were secondary measures and not included in the original study publication (8).
RESULTS
Compared to placebo, memantine significantly improved choice reaction time (CRT) and the accuracy of both immediate and delayed word recognition (all p<0.02); with Cohen's d effect sizes of between 0.56 and 0.57.
The improvement in CRT was accompanied by a trend for improved accuracy on the task, and speed was numerically improved with memantine on the word recognition tasks.
Beneficial effects of memantine were seen on 3 of the 4 tasks used in this study.
These are the first therapeutic improvements with memantine having clinically relevant effect sizes in either DLB or PDD on validated automated cognitive tests of attention and episodic recognition memory.
They directly support the improvement in the primary study outcome.
Every measure from every CDR System test moved in the direction of improvement with memantine.
The analysis models included a term for the interaction between type of dementia with effects of treatment, but none of these approached significance for any measure. Thus the improvements with memantine occurred in both DLB and PDD.

REFERENCES
1.
Ballard CG, Aarsland D, McKeith IG et al. Fluctuations in attention: PD dementia vs. DLB with Parkinsonism. Neurology 2002; 59: 1714-1720.
2.
McKeith IG, Dickson DW, Lowe J. Diagnosis and management of dementia with Lewy bodies: Third report of the DLB consortium. Neurology 2005; 65: 1863–1872.
3.
Emre M, Aarsland D, Brown R et al. Clinical Diagnostic Criteria for Dementia Associated with Parkinson's Disease. Movement Disorders 2007; 22: 1689-1707.
4.
McKeith IG, Del Ser T, Spano P, et al. Efficacy of rivastigmine in dementia with Lewy bodies: a randomised, double-blind, placebo-controlled international study. Lancet 2000; 356: 2031-2036.
5.
Wesnes KA, McKeith IG, Ferrara R et al. Effects of rivastigmine on cognitive function in dementia with Lewy bodies: a randomised placebo-controlled international study using the Cognitive Drug Research computerised assessment System. Dementia and Geriatric Cognitive Disorders 2002; 13: 183-192.
6.
Emre M, Aarsland D, Albanese A et al. Rivastigmine for dementia associated with Parkinson's disease. The New England Journal of Medicine 2004; 351: 2509-2518.
7.
Wesnes KA, McKeith IG, Edgar C et al. Benefits of rivastigmine on attention in dementia associated with Parkinson disease. Neurology 2005; 65: 1654-1656.
8.
Aarsland D, Ballard C, Walker Z et al. Memantine in patients with Parkinson's disease dementia or dementia with Lewy bodies: a double-blind, placebo-controlled, multicentre trial. Lancet Neurology 2009; 8: 613–618.
At baseline, compared to healthy age-matched controls the patients showed the previously identified characteristic profile of attentional impairment; as well as large effect sized deficits to CRT and the recognition accuracy scores.
Memantine reduced these initial deficits by between 45