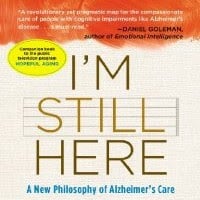 BOOK OF THE WEEK – VIDEO:
I'm Still Here: A New Philosophy of Alzheimer's Care
, discusses Dr. John Zeisel's highly effective non-drug treatments for Alzheimer's. The therapy starts with "The Arts" and expands into a spectrum of activities. See how it help patients, caregivers & families break through the barriers of Alzheimer's.
---
Available on Amazon.com:

Dr. John Zeisel, "I'M STILL HERE: A NEW PHILOSOPHY OF ALZHEIMER'S CARE"

Source:
ABC Chronicle