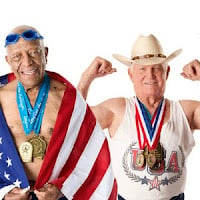 VIDEO+INFO
Exercise is the #1 way to fight dementias such as Alzheimer's. But how does one keep exercising while aging? Get inspired to get moving by watching this trailer from Age of Champions. See the power of the human spirit as it triumphs over the limitations of age. Share the film for free during the National Online Premiere, April 18 – 28, 2013.
---
Click video to watch. More info below video.

"Age of Champions" is the story of five competitors up to 100 years old who sprint, leap, and swim for gold at the National Senior Olympics. Learn more at www.ageofchampions.org.
The Washington Post called the film "infectiously inspiring"
and theater audiences across the country have fallen in love with its
light-hearted take on growing older.
"Age of Champions" is sharing the entire film for free during the national online
premiere, April 18 – 28, to start a positive conversation about aging
and inspire people of all ages to be healthier, happier, and more
active. The film will broadcast on PBS in July 2013.
INVITE YOUR FRIENDS AND FAMILY TO WATCH FOR FREE
Invite your friends, family, and colleagues to watch the film for
free by emailing them a link to www.ageofchampions.org/premiere and sharing the page on Facebook.