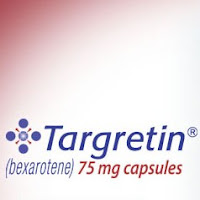 VIDEO & ARTICLE
Bexarotene is an FDA-approved anti-cancer drug available under the brand name Targretin®. It clears Alzheimer's biomarkers in mice like a charm. See the latest as it is rushed to human trials.
---
Alzheimer's Drug Discovery Foundation (ADDF) and BrightFocus Foundation today announced a funding collaboration that will support a Phase I human clinical trial to evaluate the cancer drug bexarotene as a treatment for Alzheimer's disease.
Through this partnership, the organizations are working to address a gap in funding that exists for these types of early stage studies. The trial will be conducted by ReXceptor Inc., a biotechnology company set-up by researchers at Case Western Reserve University (CWRU), and will examine the efficacy of bexarotene on key Alzheimer's disease indicators, including brain amyloid beta and apolipoprotein E (apoE).
"This clinical trial will evaluate if bexarotene can affect critical biomarkers in the human brain, a key step in the quest to develop effective and safe treatments for Alzheimer's patients," said Howard Fillit , MD, executive director and chief scientific officer of the Alzheimer's Drug Discovery Foundation. "We are grateful to BrightFocus Foundation for partnering with us to fund this important study."
Bexarotene has been commercially available in the US for more than a decade as an orally administered treatment for T-cell lymphoma. Recently, Gary Landreth , PhD, the Riuko and Archie G. Co Professor of Neurosciences and Director of the Alzheimer's Research Laboratory at CWRU's School of Medicine, along with other researchers, demonstrated that bexarotene might also be useful in the treatment of Alzheimer's disease. Landreth's group showed that bexarotene increased brain apoE protein levels and cleared amyloid from the brain (a key target for Alzheimer's disease) of mice genetically engineered to exhibit some of the characteristics of Alzheimer's disease, which resulted in improved memory and cognition. To further advance bexarotene and related compounds through drug development, Dr. Landreth co-founded the biotechnology company ReXceptor in 2011.
"Funding for pilot clinical trials is in short supply," said Stacy Pagos Haller , the president and chief executive officer of BrightFocus Foundation. "Partnering with another foundation in the community that shares a common goal makes research like this possible. In this time of shrinking corporate and pharmaceutical budgets, this project — from animal model to clinical trial — would not happen without the catalytic support of our organizations. The effort to cure Alzheimer's disease needs many voices. This project demonstrates what can be achieved when a mission of one organization becomes a movement of many."
Partial funding for ReXceptor Inc.'s trial includes The Charles Evans Foundation/Alzheimer's Drug Discovery Award to ReXceptor Therapeutics of $500,000 and a $250,000 contribution from BrightFocus to the collaboration with ADDF. Additional funds are originating from other sources of translational support, including a $200,000 investment from CWRU, to enable conduct of the full Phase I study.
The Phase I trial, set to commence later this year, will evaluate at least 12 healthy human subjects. This study will be conducted by C2N Diagnostics and Compass Research, Inc. and will employ proprietary technology allowing the measurement of apoE and amyloid beta related biomarkers in the spinal fluid of individuals following treatment with bexarotene.
MORE INFORMATION:
About the Alzheimer's Drug Discovery Foundation (ADDF)
The mission of the Alzheimer's Drug Discovery Foundation (ADDF) is to accelerate the discovery of drugs to prevent, treat and cure Alzheimer's disease, related dementias and cognitive aging. The ADDF has invested nearly $60 million to fund 400 Alzheimer's drug discovery programs and
clinical trials in academic centers and biotechnology companies in 18 countries. For more information, please visit www.AlzDiscovery.org
About BrightFocus Foundation
BrightFocus Foundation (formerly known as American Health Assistance Foundation) is a nonprofit organization supporting research and providing public education to help eradicate brain and eye diseases, including Alzheimer's disease, macular degeneration, and glaucoma. We are working to save mind and sight. BrightFocus has provided $130 million in grants worldwide. For more information, please visit www.brightfocus.org
About ReXceptor Inc.
ReXceptor Inc. is focused on the development of disease modifying, small molecule therapeutics for the treatment of Alzheimer's disease and other neurological disorders. The Cleveland, Ohio company was founded in 2011 based on work emanating from the laboratory of co-founder, Dr. Gary Landreth of Case Western Reserve University. For more information, please visit www.rexceptor.com