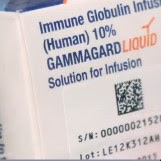 VIDEO + ARTICLE
IVIG is an FDA-Approved medication. It has been prescribed off-label for Alzheimer's. Despite recent failures in clinical trials, pharmaceutical companies and academic institutions are convinced of its potential as a new dementia treatment. They continue to invest in finding ways it can improve Alzheimer's. Learn the latest about this experimental Alzheimer's treatment.
---
In May 2013, Baxter International announced topline results of the first Phase 3 clinical trial of IVIG for Alzheimer's disease. The trial was known as the Gammaglobulin Alzheimer's Partnership (GAP) Study. The drug did not meet either of its primary endpoints.
IVIG is sold by Baxter under the brand name "Gammagard".
"These results show us exactly why drugs, in particular those that are approved for one disease that are being tested for another, must go through the very thorough FDA approval process," said Mary Sano, Ph.D., Director of the Alzheimer's Disease Research Center at Mount Sinai School of Medicine, Bronx, NY, and a member of the executive committee for the GAP Study. "The FDA process protects people from misguidedly using drugs that are not effective and may be very costly."
Dr. Sano is a member of the Alzheimer's Association Medical and Scientific Advisory Council.
Updated Results from the GAP Phase 3 Trial of IVIG in Mild to Moderate Alzheimer's
At AAIC 2013, Norman Relkin, M.D., Ph.D., of Weill Cornell Medical College and the Cornell Memory Disorders Program, and lead investigator of the GAP study, reported for the first time on additional analyses, including cognitive and biomarker tests. For cognition, the researchers found that study participants in the APOE-e4 carrier subgroup receiving IVIG 400mg/kg/2wk (n=87) had numerically superior results at 18 months relative to placebo on the Modified Mini-Mental State (3MS) Examination (n=66) and the Trails B test (n=77), two out of several measures of thinking ability made in the study.
"Though 3MS and Trails B were not the primary outcome measures in the study, they are well-established cognitive measures and, therefore, may suggest other ways to measure change in future Alzheimer's disease clinical trials," Relkin said.
Biomarker analyses demonstrated that antibodies from the treatment reached the central nervous system. The researchers found:
A statistically significant, dose dependent reductions in plasma beta-amyloid 42 levels (but not beta-amyloid 40) was observed in IVIG treated patients relative to placebo.
Statistically significant, dose dependent increases in anti-oligomer and anti-fibril antibodies in the CSF or plasma occurred in IVIG-treated patients relative to placebo.
A reduction in brain fibrillar amyloid (as measured by PET scan using florbetapir) was seen in patients who received IVIG at the 400mg/kg/2wk dose.
No effect in tau and phosphorylated tau levels in spinal fluid.
"It is important to say that the GAP study results do not provide grounds for prescribing IVIG in Alzheimer's disease, even with this positive signal in the APOE-e4 carriers, further confirmatory studies would be needed before clinical use could be recommended," Relkin said.
"The primary clinical outcomes are unequivocally negative, but there are signals in the clinical and biological markers in some subgroups. With the understanding that we cannot draw conclusions about IGIV's effectiveness in these subgroups from these results alone, the effects of IVIG on beta-amyloid and antibody levels in the blood and brain are noteworthy. These results support that IVIG can target beta amyloid and that the antibodies it contains can reach the brains of people with Alzheimer's when administered through the bloodstream."
"Research should continue in people with mild to moderate Alzheimer's; the field should not focus exclusively on early intervention strategies," said Relkin.
The Gammaglobulin Alzheimer's Partnership (GAP) Study was a Phase III, randomized, double-blind, placebo-controlled clinical trial in 390 people with mild to moderate Alzheimer's disease, conducted at 45 centers in the U.S. and Canada. Two different doses of IVIG were tested versus placebo as add-ons to approved Alzheimer's medications. The drug was administered every two weeks for 18 months. Primary study endpoints were changes on two well-established tests of cognition and daily functioning – the ADAS-Cog and ADCS-ADL. The GAP study was conducted by Baxter and the Alzheimer's Disease Cooperative Study, a clinical trial consortium supported by the National Institute on Aging at the National Institutes of Health. Baxter studies of IVIG in mild to moderate Alzheimer's disease were discontinued after the announcement of topline results in May.
APOE-e4 is one of three naturally occurring forms of the APOE gene; the others are APOE-e2 and APOE-e3. Everyone inherits a copy of some form of APOE from each parent. Those who inherit one copy of APOE-e4 have an increased risk of developing Alzheimer's disease. Those who inherit two copies have an even higher risk, but not a certainty. Risk genes increase the likelihood of developing a disease, but do not guarantee it will happen. Researchers have found several genes that increase the risk of Alzheimer's. APOE-e4 is the first Alzheimer's risk gene identified, and remains the gene with strongest impact on risk.
Despite the negative results of the Phase 3 IVIG trial, and because of the successes of IVIG in animal models of Alzheimer's and early stage trials in people, researchers continue to pursue how IVIG may work in the brain to inform ongoing Alzheimer's therapy research.

IVIG reduces tau pathology in a mouse model of Alzheimer's disease
"IVIG may help clear brain amyloid to prevent amyloid plaque buildup, but the poor results so far of clinical trials targeting amyloid raise the possibility that IVIG acts in a different way. Therefore, we tested whether IVIG might target the other characteristic lesion of the Alzheimer's brain, the neurofibrillary tangle," said Scott Counts, Ph.D., of Rush University Medical Center, Chicago.
Counts and colleagues at Rush tested whether IVIG alters the expression of tau tangle-like deposits in the brains of a transgenic mouse model of Alzheimer's that displays tangles as it ages. Three month old mice were treated intravenously with either IVIG or saline every two weeks for either three months or six months. The brains of these mice were then examined to see if IVIG reduced tangle build-up.
The researchers found that the IVIG-treated mice experienced a small (roughly 15%) but statistically significant decrease of tangle pathology in brain cells of the hippocampus, a brain area that controls memory, compared to saline-treated mice (p < 0.01, n=10/group).
They also analyzed the blood plasma of the mice to explore whether IVIG altered genetic markers that reflect brain protection. They found that IVIG treatment resulted in a 40 to 50% increase in plasma levels of several genes that are involved in maintaining proper neuronal function.
"Our preliminary data suggest that IVIG may reduce Alzheimer's-like tangle pathology and increase neuroprotective gene expression in a mouse model of Alzheimer's disease," Counts said.
IVIG may make neurons less vulnerable to damage from reactive oxygen species
In an effort to uncover the mechanism(s) by which IVIG might provide benefit, Debomoy Lahiri, Ph.D., of the Indiana University School of Medicine, and colleagues recently showed that treatment of degenerating rat brain cells with IVIG in a test tube protected the structure of the cells and enabled them to survive longer. They hypothesized that IVIG treatment might also preserve and protect human brain cells.
Lahiri and colleagues created primary human fetal brain neuron (HFN) cultures and treated them with several different doses (5-20mg/ml) of IVIG for 72 hours. The cell cultures were then exposed to reactive oxygen species (ROS) for 24 hours. Separate HFN cultures were treated with different doses of IVIG (5-20mg/ml) but not exposed to ROS.
Reactive oxygen species (ROS) are molecules that form as a natural byproduct of the normal metabolism of oxygen; they have important roles in communication between cells and keeping the body's internal environment stable (homeostasis). However, during times of environmental stress, ROS levels can increase dramatically. This can cause significant damage to cells; it is known as oxidative stress.
The scientists observed that IVIG pre-treatment (10 and 20mg/ml) provided significant protection to brain cells that were subsequently exposed to ROS. They also observed significant increase in cell viability in the neurons when they were treated with 10 and 20mg/ml doses of IVIG alone for four days.
"Our results suggest that IVIG treatments may make neurons less vulnerable to damage from reactive oxygen species," Lahiri said. "Since preventing brain cell loss in Alzheimer's is an important goal of therapy, our results suggest that IVIG may be beneficial for preserving and protecting neurons against oxidative damage."
"This is particularly important because we know that beta amyloid deposits in the Alzheimer's brain indirectly lead to the generation of ROS, including free radicals, that damage and destroy brain cells," Lahiri added.
About AAIC
The Alzheimer's Association International Conference (AAIC) is the world's largest conference of its kind, bringing together researchers from around the world to report and discuss groundbreaking research and information on the cause, diagnosis, treatment and prevention of Alzheimer's disease and related disorders. As a part of the Alzheimer's Association's research program, AAIC serves as a catalyst for generating new knowledge about dementia and fostering a vital, collegial research community.
About the Alzheimer's Association
The Alzheimer's Association is the world's leading voluntary health organization in Alzheimer care, support and research. Our mission is to eliminate Alzheimer's disease through the advancement of research, to provide and enhance care and support for all affected, and to reduce the risk of dementia through the promotion of brain health. Our vision is a world without Alzheimer's. Visit www.alz.org or call 800-272-3900.
# # #
Norman Relkin, et al. Results of the GAP 160701 Study: A Phase 3 Clinical Trial of Intravenous Immunoglobulin for Mild to Moderate Alzheimer's Disease – Norman Relkin on Behalf of the ADCS and Baxter GAP 160701 Study Group (Funders: Baxter; U.S. National Institute on Aging)
Scott Counts, et al. IVIG reduces tau pathology and increases neuroplastic gene expression in the 3xTg mouse model of Alzheimer's disease. (Funder: Baxter)
Debomoy Lahiri, et al. Effect of IVIg in Preserving Human Primary Neurons & Protecting Them Against Oxidative Stress. (Funder: Baxter)