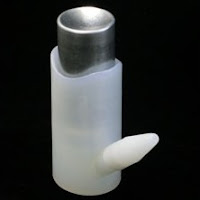 The BBB (blood-brain barrier) has long blocked many oral drugs from getting to the brain. Nose-to-brain delivery of Alzheimer's drugs is a breakthrough technique that gets around that barrier. Learn how the POD (Precision Olfactory Delivery) device crosses a major milestone in bringing this technique to patients.
---
SEATTLE–(BUSINESS WIRE)–Impel NeuroPharma completed a human proof of concept study using "POD technology" to cross the blood-brain barrier.
The company is able to demonstrate nose-to-brain delivery using SPECT imaging, a first in the pharmaceutical and biotechnology industries. The company's successful study opens the door for central nervous system (CNS) drugs to be delivered directly to the human brain, allowing potential treatments for complex neurological conditions that were previously excluded by the blood-brain barrier (BBB).
Imaging showed that the POD device successfully deposited a therapeutic amount of radiolabeled tripeptide into the deep nasal cavity that then enabled rapid and significant delivery to the central nervous system, bypassing the BBB.
"This is a major milestone for the company and groundbreaking for the industry," says CEO, Michael Hite. "We conclusively demonstrated the POD technology can deliver clinically meaningful levels of biologic drug products to the central nervous system (CNS)."
"Our goal is to advance the treatment of CNS diseases by enabling the delivery of molecules that currently can't be developed as therapeutics because of the blood-brain barrier. Nose-to-brain delivery offers an opportunity to bypass the BBB, providing hope for a broad range of CNS conditions that currently lack a good treatment option," Hite added.
Dr. William Frey II, Director of the Alzheimer's Research Center and Professor of Pharmaceutics, Neurology and Neuroscience at the University of Minnesota commented, "Since the discovery in 1989 that intranasal delivery could be used to bypass the blood-brain barrier, there has been a need for a safe, effective and reliable device for targeting the upper third of the nasal cavity. The Impel study is exciting because it confirms that the pathway is conserved across animal species and can be utilized clinically to facilitate delivery of drugs. The study demonstrated that the Impel POD nasal device successfully targets the upper posterior portion of the human nasal cavity resulting in rapid therapeutic delivery to multiple brain regions, including those involved in Alzheimer's, Parkinson's and stroke."
"We've made great progress in preclinical studies, with multiple successful programs with National Institutes of Health (NIH), the Department of Defense, and several pharma collaborators, but we're really excited to advance the POD technology into the clinic," John Hoekman, PhD, Impel's Chief Scientific Officer commented. Furthering its mission, Impel will continue to broaden its clinical experience with two IND-approved human studies later this year, including one at the University of Washington.
Impel has also recently received a >$650,000 Small Business Investigational Research (SBIR) grant from the NIH to develop a cost-effective version of the POD device for use in research labs. "The NIH has recognized the potential in nose-to-brain drug delivery. By expanding the application of the POD technology in basic and applied neuroscience we are hoping to accelerate development of therapeutics uniquely enabled by this route," Hoekman added.
Impel has focused on collecting additional performance and safety data for the POD technology and expanding its capabilities for clinical support of pharmaceutical and biopharma partners. Impel has recently signed research agreements with two additional pharmaceutical partners with programs targeting neurological disorders. To date, Impel has entered into seven research agreements with pharmaceutical and device partners with active CNS pipelines, including four of the ten largest pharmaceutical companies.
MORE INFORMATION:
About Impel NeuroPharma:
Impel NeuroPharma, Inc., is developing a novel intranasal device to enable drugs to bypass the blood-brain barrier using direct nose-to-brain delivery. Impel's technology can dramatically improve the delivery of drugs, including biologics, into the brain and central nervous system. Nose to brain delivery may enable molecules previously unable to cross the blood-brain barrier to become therapeutics, potentially aiding treatment to some of the most common and devastating neurological conditions such as Alzheimer's and Parkinson's.
About the Precision Olfactory Delivery Technology:
Impel NeuroPharma's Precision Olfactory Delivery (POD) device platform delivers aerosolized drugs to the upper nasal cavity where they are directly transported into the brain, effectively bypassing the blood-brain barrier. Drug molecules can reach the brain faster, in greater amounts, and with improved patient experience than with alternate delivery methods such as intravenous or intrathecal dosing. To learn more, visit www.impelneuropharma.com