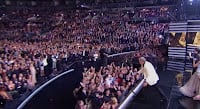 OFFICIAL MOVIE TRAILER:
The new movie "I'LL BE ME" tells the story of music legend Glen Campbell. His life, his music and the extraordinary 151-city "Goodbye Tour" de force that's made him a hero.
---
The film features those who know and love Glen, including Bruce Springsteen, Bill Clinton, The Edge, Paul McCartney, Jay Leno, Vince Gill, Jimmy Webb, Blake Shelton, Sheryl Crow, Keith Urban, Brad Paisley, Steve Martin, Chad Smith and Taylor Swift among many others.
Continued below video…
This powerful portrait of the life and career of great American music icon Glen Campbell opens us to the world of the singular talent who created hits like Rhinestone Cowboy, Wichita Lineman and Gentle on My Mind.
Winner of the Grammy for Lifetime Achievement and member of the Country Music Hall of Fame, Glen was the first country music star to cross over to the pop charts, opening a new realm of opportunity for generations of country musicians.
Directed by James Keach
Produced by Trevor Albert and James Keach
A PCH Films Movie