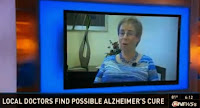 VIDEO + ARTICLE:
Nilvadipine is a European anti-hypertensive drug. Possessing a strong safety record, the drug is showing growing evidence of fighting Alzheimer's on 3 fronts: by reducing amyloid protein, neuroinflammation and tau protein. See how.
---
SARASOTA, Fla.  — Scientists at he Roskamp Institute, a not-for-profit biomedical research facility specializing in Alzheimer's disease research, have isolated a key molecule that gives researchers a new drug target for the treatment of the progressive, irreversible neurological disorder.
Continued below video…
This finding is the culmination of more than 10 years of work by more than a dozen scientists and clinicians in the research team in Sarasota. Alzheimer's has been the subject of intensive research for more than 20 years. As yet, there is no approved treatment that impacts the course of the disease.
Published in the on-line edition of the Journal of Biological Chemistry, (www.jbc.org), the results of the extensive studies offer a new target for drug development in the quest for a cure for Alzheimer's, the most prevalent form of dementia in the elderly.  Currently, the disease affects 5.2 million Americans, or 1 in 9 adults over the age of 65.
The Roskamp researchers have identified a single enzyme which propagates the three key hallmarks of Alzheimer's disease – inflammation, accumulation of amyloid protein, and modulation of the 'tau' protein, all of which are responsible for damage to the nerve cells of the brain.
"These studies suggest there is a single drug target to inhibit all the three key pathologies of Alzheimer's disease," says neurobiologist Daniel Paris, Ph.D., lead researcher for the study.
Michael Mullan, M.D., Ph.D., senior author of the published study, added, "Our studies have revealed that the spleen tyrosine kinase (SYK) enzyme is at a crossroad from which all three of the brain abnormalities known to be associated with Alzheimer's disease diverge. Hopefully, academic or industry researchers can now develop new drugs to inhibit SYK which are suitable for clinical trials in Alzheimer's disease."
In working out how an anti-hypertensive drug called Nilvadipine works to reduce amyloid protein accumulations, Roskamp researchers realized the drug also had positive effects on neuroinflammation and the tau protein. The scientists retraced the molecular steps leading to these three factors and discovered they all led back to the SYK protein.
Dr. Paris then went on to show that drugs blocking SYK activity in the brain could represent a new strategy for treating Alzheimer's.
"The potential for developing a single "multi-modal" drug treatment that will control all three of these Alzheimer's characteristics has us very excited," Dr. Paris said. "All of these pathologies are interrelated. In theory, by interrupting these three molecular pathways, we can develop more effective drugs to stop the disease".
"To date, all the drugs that have been tested only attack one pathology, or Alzheimer's characteristic, at a time," he added. "What is needed is one drug to address all three."
Having discovered and demonstrated the molecular pathway linking SYK with these traits, Roskamp scientists are looking forward to testing their hypothesis, either by developing new drugs themselves or partnering with academic and commercial groups.
"We didn't know until now that SYK was a possible therapeutic target for Alzheimer's disease," said Dr. Fiona Crawford, CEO of the Roskamp Institute. "We'd be delighted for anyone to come up with an "anti-SYK" treatment to stop Alzheimer's."
"These findings are really significant," stated David H. Cribbs, Ph.D., Research Professor at University of California Irvine (UCI), Associate Director of the Institute for Memory Impairment and Neurological Disorders, and Co-Leader of the UCI Alzheimer's Disease Research Center Neuropathology Core.
 "With all of the failures of the clinical trials of drugs for this dementia up to this point the finding of new therapeutics is wonderful. And Nilvadipine has a good safety profile," he added.
Nilvadipine has been prescribed in Europe and Japan to treat hypertension since the 1990s and has accumulated a strong safety record. 
A Phase III clinical trial of Nilvadipine for Alzheimer's disease is currently underway in Europe (the NILVAD study). Phase III studies are the final step in the regulatory process before a drug can be moved into clinical practice.
Five hundred Alzheimer's patients in 26 clinics across nine countries are participating in the double-blind, placebo-controlled study that began in 2013. Each participant will be followed for 18 months to see if the drug is effective at slowing or stopping the course of the disease.
MORE INFORMATION:
The Roskamp Institute, Inc. is a not-for-profit 501(c)(3) public charity research institute located in Sarasota, Florida, that is dedicated to understanding the causes of, and finding novel therapies for neuropsychiatric and neurodegenerative disorders. The Institute has devised a broad range of scientific approaches to understanding the causes of and potential therapies for these disorders with an emphasis on Alzheimer's disease. The Institute's Clinic focuses on the clinical research, diagnosis, management and treatment of neurological, neuropsychiatric and neurodegenerative disorders in addition to conducting clinical research studies.
SOURCE:
Roskamp Institute