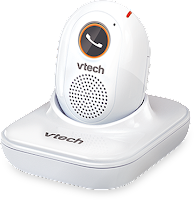 PRODUCT REVIEW WITH VIDEO:
Phones for dementia must be easy-to-use. They also require some very special features. We tried phones from AT&T and Panasonic, yet it took the Careline Phone to make us feel completely satisfied. Here are the top 10 reasons we like it.
---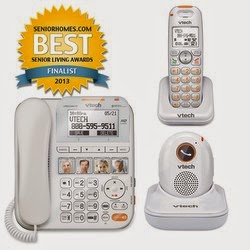 On a recent visit to my 89-year old father, I installed a set of Careline phones. Despite Dad's neurodegenerative illness, he is a fiercely independent heroic spirit. His home remains his castle and as we are his kids, we band together to use technology to make sure it stays that way. When we installed the Careline phones, they immediately improved his quality-of-life. Here are some of the ways they made his life better.
PENDANT ALWAYS HANDY: We installed 5 cordless extensions around the house and one pendant. Our goal was to make sure a phone would always be conveniently nearby. Notwithstanding, at 89 years of age, 5 or 6 rings did not always give him enough time to get to a phone. The pendant, which he hangs from his neck, lets him always have a way of answering calls or call for help, even from the bathroom.
HOUSE-WIDE CALL FOR HELP: His home has 2 floors and his voice is not what it used to be. If a caregiver is upstairs and he is downstairs and calls for her, we noticed that she does not always hear him. Now, he picks up the pendant, pushes the VOICE button, says the words "INTERCOM ALL", and all the extensions throughout the house ring their intercoms.
CALENDAR CLOCK: People with memory loss often lose track of the day or time. Asking again and again is annoying to the caregiver and embarrassing for the person asking. Now, I have seen him pick up his pendant a few times a day, push VOICE, and say, "What day is today?" Careline gives answers like, "It is Tuesday, March 20. Have a wonderful day!" Then with a smile, Dad picks up the pendant again and jokingly responds, "Thanks so much! You too!"
TWO SPEED CALLS: Like most modern phones, Careline offers speed dial. What is unique are the two speed-call buttons on his pendant. With a single-press, he calls my brother or I, anywhere he is, at anytime. Alternatively, he can press VOICE and say, "SPEED DIAL 2" and the phone will call me.
BIG-BUTTON ANSWER AVOIDS MOMENTS OF CONFUSION: When Dad's medication kicks in, we are blessed that he is 100% "with-it". At the edges of the day, he can get confused. Add to that the fact that his hearing is not so great, so he always uses the loud speakerphone. Finding the speakerphone button amongst the 20 buttons on typical cordless handsets can take too long when a person is confused. Now, when the phone rings, Dad simply pushes the big button on his pendant. It answers the phone and puts the call right onto the pendant's speakerphone.
PHOTO BUTTONS: Though Dad does not really need it right now, we set up pictures in the 4 speed-dial photo buttons. It is comforting to know that even if he ever gets really confused or forgetful, a push of a picture is all it takes for him to reach out to one of us for help.
MISSED CALL FROM PENDANT: With a press of the VOICE button, all he needs to say is, "REVIEW MESSAGES", and the answering machine will play back any missed messages right on the pendant. The large displays on all the cordless handsets also make it easy for him to manage those messages.
MEDICINE REMINDERS FROM GRANDKIDS: Dad needs to take medicine in the morning, at lunch, at dinner and before going to sleep. If a caregiver is not around for a few hours, he easily forgets. Now, the phone rings and when he picks it up, he hears a grandchild say, "Good morning, Grandpa! It's time to take your breakfast medicine! Love you." The Careline System allows for up to 14 minutes of recorded messages like that. It can be programmed to go daily, weekly or any way you like it.
CALL ANNOUNCE HELPS PREVENT SCAMS: Dad seems to get calls from people trying to raise money or ask for information on an almost daily basis. That can get awfully tricky, especially if it is at a time of day when they catch Dad off-guard. Now, when the phone rings, the Careline system announces the name of any of the 50 people we programmed into the phone's directory. If it announces a number with no name, Dad knows it's a stranger and lets it go to the answering machine. If the message is important, he calls back. If not, he skips it.
EASY TO ADD: After we had everything programmed and installed, Dad asked if we could add a cordless handset in the bathroom. I just ordered one from Amazon, plugged it in, and TA-DA! The unit picked up his 50 speed-dial numbers, gave him access to the answering machine and intercom, announced his medication reminders, and everything!
IT JUST WORKS! Our last phone system was OK, but it did some jobs less than perfectly, and others in a way that was a little more complicated than necessary. Though this phone has a gzillion features, you only need to use the ones you want, and they work intuitively, performing as you would expect them to. Most importantly, like the saying goes about a Honda, "Isn't it great when things just work?" The manufacturer, Vtech, has been around for decades. Every piece of equipment was solid.
Features
The Careline phone has a lot more features that make it great for everyone in the family. It has the option of up to 12 cordless handsets, and the prices are reasonable.
With a handy pendant, a picture phone handset, audio-boost, regular cordless handset for caregiver, and full-blown station for setup and advanced features, this phone is great for people with dementia as well as everyone in the house.
Continued below video…
This is the best phone we have found for people with dementia.
A dementia-phone must be many things to many people. This phone-system covers the bases. Here are key features:
Portable Safety Pendant
One-Button Emergency Calls

Program up to two phone numbers to call for help with one-button dialing or voice commands—connect directly with 9-1-1, family or a friend.

No Monthly Fees

Unlike other safety pendants, the CareLine pendant doesn't require a subscription to a third party. Use it as often as you want with no monthly monitoring fees.

Portable

Lightweight and compact, the pendant comes with convenient wearing styles and a built-in-speakerphone so you can take base or handset calls with you—no matter what you're doing.
Big-Button Corded Phone
Photo Dial

Never forget whose number is whose. Program four frequently dialed phone numbers and attach a photo to each for convenient, one-touch dialing.

Amplified Sound

Increase the volume of incoming sound by up to 40 decibels so conversations are easier to hear and understand.

Voice Announce® Caller ID

Always know who's calling, even when you're in the other room. All devices announce the names of your callers through the speakerphones—including the safety pendant.

Digital Answering System

Missed calls? The touch of a button retrieves all your messages.
Big-Button Cordless Handset
Audio Assist®

Need more help hearing what's being said? Use Audio Assist on our hearing-impaired phones to temporarily boost up the volume (up to a powerful 40 decibels) while you're on a call.

Large Screen

The cordless handset features a large, high-contrast display to make it easier to see who's calling.

Big Buttons

Oversized, lighted buttons make the handset super easy and
comfortable to use.
And More…
Visual Ringing Indicator

A light at the top of the handset flashes for incoming calls. This feature is especially useful for those who are hearing impaired.

Full-Duplex Handset Speakerphone

With the touch of a button, speakerphones in each handset make hands-free conversations easy.
The video at the top of this page gives a quick look at what makes Careline special for dementia. The video below offers in-depth look at Careline's many helpful features:
Continued below video…
This phone has dozens of features, so to review each one here is beyond the scope of this article. But if one takes a look at the hundreds of customer reviews of Careline on the Amazon site, it's obvious to see VTech engineers did a brilliant job in making a satisfying phone system for people living with dementia. More information is available on
Amazon.com's Careline Page.
Big Buttons, Large Displays
Voice User Interface
2 Programmable Speed-Dial Keys
HD Audio
Answering system
Caller ID/Call Waiting—stores 50 calls1
Full Duplex Base speakerphone
Full Duplex Pendant speakerphone
Digital Reminder System
Talking Digits
Visual Ringing Indicator
ECO Mode power-conserving technology
Quiet Mode
Line Power Mode
Expandable up to 12 devices (cordless handsets and/or up to two pendants) with only one phone jack
DECT 6.0 Digital technology
Up to 14 minutes of recording time2
Slow Play Function
Call screening
Call intercept
Remote access
Message time and date stamp
Large backlit base display
Battery back-up compartment
50 name and number phonebook directory
Hearing Aid Compatible
Low Battery Indicator
Rechargeable Battery
Flexible Wearing Styles
Equalizer
Voicemail Waiting Indicator3
Last 10 number redial
Mute
Any key answer
Volume control

Trilingual prompts—choose between English, Spanish or French
Table- and wall-mountable
Hearing Aid Compatible – RoHS Compliant