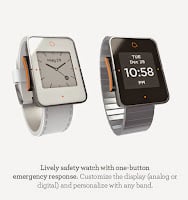 PRODUCT OF THE WEEK VIDEO & ARTICLE:
One press of Lively's orange button gets help from friends, family or 911. The new waterproof watch for living at home with dementia offers medication reminders and counts steps. It sends an email or SMS to family members when there has been too little motion or a medication has been missed. With many more dementia-friendly features, see Lively in action.
---
Lively is a new safety watch. It redefines what people should expect of a personal emergency response (PERS) "wearable" watch. Lively has reimagined how to keep older adults safe and connected with a watch that fits an independent lifestyle and gives family members peace of mind. At a consumer-accessible price point,
includes a button for 24/7 emergency response with the added benefit of missed medication reminders, a pedometer for step counting, and more.
USA TODAY VIDEO REVIEW: (Article continued below video…)
Lively addresses a critical need by protecting older adults with a wearable emergency response device that they consider more usable. At the same time, Lively gives family members insight into their elder loved one's daily living patterns in order to notice any unwelcome changes.

The new version of Lively can be ordered from Amazon.com.

After a one-time initial cost of $49.95, Lively's pay-as-you-go service is only $34.95/month.
Video Describing Lively's Main Features:(Article continued below video…)
"To date, wearable activity trackers have been 'nice to have' rather than a 'need to have,'" says Katy Fike, PhD gerontologist and co-founder of Aging2.0. "Wearable personal emergency products solve a real pain point for consumers, however, traditional neck-adorned emergency pendants often spend more time on the nightstand than on people. Lively is setting an example as a next-generation wearable that combines style and function to deliver a valuable service, which serves a far greater purpose than simply duplicating information people can get from their smartphones."
The Lively safety watch is an enhancement to its smart home product that enables older adults to remain independent, safe and connected to family and caregivers. In line with its original offering,
is simple for anyone to use and does not require any home internet connection, in deference to the nearly 65 percent of older adults age 75+ that lack internet access. It uses an in-home hub with built-in cellular connectivity to offer emergency response coverage up to 1000 feet around the home or yard. Lively's safety watch also can be paired with a smartphone for emergency response for those who move beyond the home range. Lively also will offer an accessory clip for the safety watch to provide automatic fall detection capabilities by early 2015.
"Personal Emergency Response devices are an enormously valuable concept, but they are worthless if people aren't wearing them. Compliance with daily use is the biggest oversight with current offerings –older adults don't like to admit it, and family members have no way of knowing otherwise," says Iggy Fanlo, co-founder and CEO of Lively. "In fact, we've been amazed that other PERs products that have the ability to communicate compliance, do not; leaving family members unaware that their loved one is not wearing their pendant-style device. The only reasonable conclusion is that other device manufacturers are highly reluctant to broadcast the overwhelming percentage of elders who refuse to wear them. Given that research has shown that 62% of fall victims who don't receive help within the hour won't be able to live independently after recovery, we're on a mission to offer an emergency response product that encourages daily use and valuable features that don't compromise older adult's style or dignity."
passive activity sensors for use around the home that measure healthy living patterns and give family members insight when something may be amiss, like missed meals or decreased physical activity. Lively's technology is discreet, giving older adults the ability to share as much or as little detail as they are comfortable. When a daily routine pattern shifts, Lively notices—and notifies any circle of people who they choose via email, text message or mobile app. Lively's safety watch, which is automatically synched with the in-home activity sensors, also provides intelligent reminders that notify the user when their medication has been missed.
"The explosion of the wearables market is evidence that we like to consume information about our health," says David Glickman, co-founder and COO of Lively. "This passion is heightened when it comes to the safety of our elder loved ones. Lively brings attention to the first signs of a more serious condition — all without requiring family caregivers to incessantly nag their elders about whether they've taken medications, eaten meals or gotten out for fresh air. And with our emergency response capability, family members can rest assured that fast help is there when it's needed."
In a survey conducted by Lively that informed the design of its next release, over 90 percent of caregivers ranked it very important or extremely important that their PERs device have a large, easy to read display, long-lasting, replaceable battery, and operate without requiring internet connectivity. Additionally, 88 percent of those surveyed sought offerings that were capable of intelligent reminders about missed medication, as well as alerts when the device isn't being worn.
is the result of a design-thinking approach to meet family caregiver's requirements and set a new standard in the field. Product design and features are reflective of the following philosophies: 
    Modern design improves usage. Emergency response products need to be worn to be effective. However, current offerings are not motivating use and daily charging of these devices also is prohibitive. Lively's safety watch sends out automated alerts when not worn, is waterproof and powered by a battery that holds its charge for up to 6 months, significantly improving usage and the protection of older adults in receiving timely, fast emergency help.
    Smart doesn't have to be complicated. Lively has designed its products to be age-agnostic, requiring no computer skills to use it and updates are automatic. Set-up can be done remotely by geographically-separated family members as well.
    Social connections are imperative to independence and longevity. Lively aligns with the desire and motivations of older adults to retain dignity, feel close with their families and to safely stay in their own homes longer. This approach accounts for the whole person and their emotional well-being, which has been proven to promote better health and longevity.
    True affordability. Lively is the only product of its kind at a price point that makes the product something families can personally afford. The new version of Lively, including its safety watch for emergency response, will cost only $49.95 (initial purchase price) plus pay-as-you-go service for $34.95/monthly.

Lively is currently available in the U.S. from Amazon.com .

It is also available in Australia; versions planned for the UK are imminent with availability in other International markets to be announced.
MORE INFORMATION:
About Lively: 
Lively was founded by Iggy Fanlo, David Glickman, and Keith Dutton in the summer of 2012 and is headquartered in San Francisco. With collective backgrounds that include working at some of the world's most innovative consumer product companies, they've formed a vibrant team of talented individuals who share a passion for changing the way older adults stay connected across generations.
SOURCE: