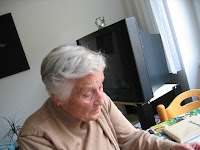 Living well with Alzheimer's takes good planning. Fortunately, the U.S. government just approved coverage for neurologists to guide people with dementia regarding future care. Learn more about Medicare's new standard of care.
---
MINNEAPOLIS – The American Academy of Neurology (AAN) supports the Centers for Medicare & Medicaid Services (CMS) decision that provides Medicare coverage for neurologists to have conversations with their patients regarding future care for their serious illness.
The proposed rule issued by CMS in its 2016 Medicare physician fee schedule provides access to voluntary services under Medicare and provides individuals with an important and often timely opportunity to establish and document their goals of care and preferences in the event of a serious illness.
"Patients and their families deserve to understand their disease, treatment and management alternatives and the implications of those alternatives," said Bruce Sigsbee, MD, Past President and Fellow with the American Academy of Neurology. "These discussion should occur not in the midst of a crisis, rather, as part of a thoughtful and respectful planning process.
" Published, peer-reviewed research shows that advanced care planning leads to better care, higher patient and family satisfaction, fewer unwanted hospitalizations, and lower rates of caregiver distress, depression and lost productivity.
Advanced care planning is particularly important for Medicare beneficiaries because many have multiple chronic illnesses, receive care at home from family and other caregivers, and their children and other family members are often involved in making medical decisions.
"This is the standard of care and we are pleased that CMS has recognized what doctors are already doing to address the needs and requests made by patients," said Sigsbee. "It is important that patients be able to come to their own conclusions and express their requests. Their care should not be directed by the opinions of others."
MORE INFORMATION:
The American Academy of Neurology, an association of more than 28,000 neurologists and neuroscience professionals, is dedicated to promoting the highest quality patient-centered neurologic care. A neurologist is a doctor with specialized training in diagnosing, treating and managing disorders of the brain and nervous system such as Alzheimer's disease, stroke, migraine, multiple sclerosis, concussion, Parkinson's disease and epilepsy.
SOURCE:

The American Academy of Neurology: http://www.aan.com