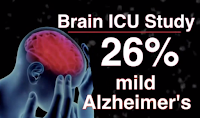 VIDEO + ARTICLE:
Anesthesia appears to lead to faster deterioration of cognition, function and brain volumes in women than in men. Understand anesthesia's dementia-like effects on the brain. See 3 things you can do about it.
---
General anesthesia during surgery is a carefully monitored process because of its potential impact on the brain. Though the majority of people undergoing surgery have no lasting effects from the anesthesia, research has shown that older adults are at higher risk for long-term cognitive and functional problems following surgery with general anesthesia.
Continued below video…
At AAIC 2015, Katie Schenning, MD, MPH and colleagues from the Oregon Health & Science University, Portland OR, reported results from a study that explored whether exposure to general anesthesia would lead to faster deterioration of cognition, function and brain volumes in women than in men. To study this question, the researchers reviewed two different research program databases that are examining cognitive aging – the Oregon Brain Aging Study and the Intelligent Systems for Assessing Aging Changes. Out of 527 total participants, 182 people underwent a total of 331 procedures under general anesthesia. The researchers found that:
Men exposed to general anesthesia during surgery declined in measures of cognition, functional status, and brain volumes statistically significantly faster than men who did not have surgery.
Women exposed to general anesthesia during surgery also declined on those measures, and at a significantly faster rate than men. That difference was even more pronounced for women who underwent multiple surgeries with general anesthesia.
"This is one of the first studies to suggest that among older adults, women are at a higher risk for postoperative brain dysfunction than men," said Schenning. "Our research clearly shows an association between surgery, general anesthesia and cognitive decline in older adults. More studies are needed to confirm this observation and to identify ways to minimize the effects of surgery and general anesthesia on older adults. Future research should focus on whether certain people are more susceptible to postoperative cognitive decline by virtue of sex or genetic risk factors."
MORE INFORMATION:
About AAIC
The Alzheimer's Association International Conference (AAIC) is the world's largest gathering of leading researchers from around the world focused on Alzheimer's and other dementias. As a part of the Alzheimer's Association's research program, AAIC serves as a catalyst for generating new knowledge about dementia and fostering a vital, collegial research community.