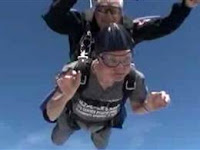 VIDEO + TRANSCRIPT:
See what a 99-year-old Florida man, jumping from a plane, has to say about Alzheimer's research.
---
Transcript below video…
TRANSCRIPT:
AGE IS JUST A NUMBER FOR A LOCAL 99-YEAR-OLD MAN. HE WILLINGLY JUMPED OUT OF AN AIRPLANE TO RAISE MONEY AND AWARENESS FOR ALZHEIMER'S RESEARCH.
DON: "TO ME, THIS IS ONE OF THE GREATEST DAYS OF MY LIFE.
NBC NEWS: "ALL RIGHT!"
DON: "TO THINK WE'RE COMMITTED HERE TO HELP ALZHEIMER'S. WE'RE GONNA WHIP THAT DISEASE."
NBC NEWS: "GOOD JOB FOR YOU!"
HE BEGAN SKYDIVING IN HIS 80S. HE HAD A SISTER WHO SUFFERED FROM DEMENTIA AND HE HAS WORKED FOR YEARS TO FIND A CURE AND PREVENTION AND SAID NOTHING CAN STOP HIM.
DON: "I'VE BEEN DOING IT FOR YEARS AND I'M NOT GONNA GIVE UP JUST BECAUSE I'M YOUNG AT 99."
SOURCE: