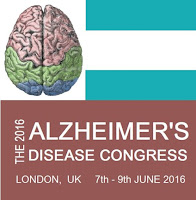 The 2016 Alzheimer's Disease Congress will take place in London on the 7th through the 9th of June, 2016. Find out more.
---
The Alzheimer's Disease Congress three day international academic congress will bring to light the current research and treatments being developed for Alzheimer's Disease.
Alzheimer's Disease has been recognised as the most prevalent form of dementia; an ever-growing issue in an ageing society. Over three days the Alzheimer's Disease summit will discuss many aspects of disease progression, development and treatment in an informal academic setting. Topics for discussion include prediction and prevention strategies, vaccine development, drug discovery and care. With plenty of opportunity for networking and debate, this informal international meeting will bring you up to date with current research and thinking regarding Alzheimer's Disease.
Talks Include:
– Inflammation in Dementia with Lewy bodies and Alzheimer's Disease
– Drugs used in multiple pathologies, with stresses common to Alzheimers disease, offer candidate drugs and vaccine potential for Alzheimers disease
– Targeting Nucleophilic Attack During Early Beta-Amyloid Peptide Oligomerization
– Age-dependent effect of Alzheimer's Risk Variant in CLU genotype on brain function in non-demented adults
– The role of heparan sulfates in the amyloid pathology of Alzheimer disease
– Paradigm Shift: Semantic memory decline as a biomarker of preclinical Alzheimer's disease
– Exploring the Glutamatergic Hypothesis for the Pathogenesis of Down Syndrome: Potential Lessons for our Understanding of Alzheimer's Disease.
– Probing dementia-associated disruption of neural circuits using neurophysiology and imaging in murine models
– How to Improve Care for Dementia Patients
– Cholesterol's contribution to autophagy deficits in Alzheimer's disease
– c-Abl signaling in Alzheimer's disease and other Neurodegenerative diseases: Projections for drugs searching
– EEG biomarkers and profiling of AD mouse lines
– Granulovacuolar degeneration, a neurodegenerative change that accompanies tau pathology
– Protein Degradation Modulates Cell Non-Autonomous Neuronal Proteotoxicity in Transthyretin Amyloid Disease Models
– Potential therapeutic strategies of Cerebrolysin in Alzheimer's Disease
– Looking for the markers of asymptomatic stage of Alzheimer's disease in the retina
– Psychological treatments for depression and anxiety in dementia and mild cognitive impairment: systematic review and meta-analysis
– Smell identification function in Alzheimer's disease
– Calcium, Memory and Alzheimer's disease
– Ventriculomegaly effect on cognition and gait
– Sigma-1 receptor ligand Fluvoxamine modulates production of amyloid beta peptides in vitro and is protective in J20 Alzheimer disease mice
– Link between the modifiable risk factors of Alzheimer's disease and neuroinflammation
– The regulation of metastable proteins in neurodegenerative diseases
– Multiple roles of cholinergic neurons in the modulation of amyloid production
– Associations of sorLA/SORL1 with Alzheimers disease
– Imaging-related biomarkers of cognitive decline in healthy controls.
– Neuronal Responses to Neurodegenerative Diseases: Transthyretin an unlikely Defender of Neuronal Integrity
– The MTDL molecules, a pharmacological approach for Alzheimer´s disease
– Diabetes Mellitus and Hipercholesterolemia: risk factors for MCI and Alzheimer's Disease
– Loss of neuroprotective lipids and myelin as a key sensitizing factor in Alzheimer's pathogenesis
– The role of Pb in AD pathogenesis
– The association between type 2 diabetes and AD-like pathology and related issues
For more information visit http://www.researchandmarkets.com/research/bcqbmw/the_2016