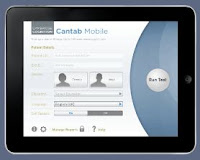 VIDEO + ARTICLE:
FDA approval of a new dementia test has taken Alzheimer's detection a giant step forward. Called "Cantab Mobile", the test is a short, sensitive memory assessment. See how 10 minutes on a tablet promises to revolutionize dementia care today.
---
CAMBRIDGE, England–(BUSINESS WIRE)–The neuroscience health company, Cambridge Cognition Holdings PLC, announced it received clearance from the FDA (U.S. Food and Drug Administration) to market the CANTAB Mobile product as a medical device.
Continued below video…
CANTAB Mobile is designed to detect clinically-relevant memory impairment in older adults at the point of care. It includes a computerised test of visuospatial associative learning (CANTAB PAL) to assess episodic memory with optional mood and functional assessments, which can help to detect symptoms of depression and problems with performing regular activities of daily living.
The touchscreen test, which takes under 10 minutes to complete, can be self-administered using voiceover instructions in over 20 languages with automatic scoring, accounting for age, gender and education level. All results can be accessed in a simple to interpret, one-page physician's report using a traffic-light output for memory and mood outputs.
Since being classified as a European Medical Device in 2013, CANTAB Mobile has been used routinely to assess over 26,000 patients in the UK who had concerns about their memory or were considered by their physician to be at increased risk of dementia. The test is based on 30 years of research into Alzheimer's disease and over 500 peer-reviewed papers including independent studies demonstrating how the CANTAB Mobile memory assessment is sensitive to detecting the earliest signs of prodromal Alzheimer's disease years before a clinical diagnosis1.
The 510(k) clearance for CANTAB Mobile allows Cambridge Cognition to market the medical device for commercial distribution in the U.S. where significant interest in the product has developed among primary and secondary care organisations and corporate health providers.
Dr. Steven Powell, Chief Executive Officer, Cambridge Cognition, commented:
"There is a great unmet need for effective near patient assessment tools to assess memory impairment. CANTAB Mobile is an established and proven digital health product and we are delighted to announce the 510(k) clearance. Access to the large US healthcare market combined with the recent investment in our U.S. operation will strengthen the Company's revenue and continued growth."
SOURCE:
CONTACT:
Cambridge Cognition Holdings PLC
Steven Powell, Chief Executive Officer
---