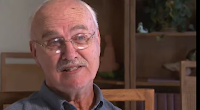 DIAGNOSIS VIDEO:
Don Hayen is a retired doctor, diagnosed with Alzheimer's at 71. But that diagnosis took way too long. Find out how his "cognitive reserve" fooled his doctors. See why he sure wished it hadn't.
---
Alzheimer's and Dementia Weekly regrets to inform our readers that Don Hayen passed away in the early morning hours of December 31, 2019, ending his long journey with Alzheimer's, and permanently leaving his wife Jane, a daughter and son, and their respective spouses and six grandchildren.
The family suggests that those who wish to make a donation in Don Hayen's name consider the San Diego Alzheimer's Association Center, 5075 Shoreham Place #240, San Diego, CA 92122 or Shiley-Marcos Alzheimer's Disease Research Center, 8950 Villa La Jolla Drive STE C-129, La Jolla, CA 92037, both of which are focused on helping people learn about Alzheimer's and which are focused on early detection.
SOURCE: