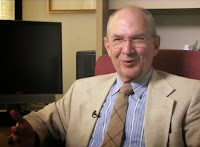 GUILT – VIDEO & TRANSCRIPT:
Caregiving is loving, yet daily frustrations often trigger guilt. See Dr. Peter Rabins, author of the #1 dementia book "The 36 Hour Day," share healthy approaches to caregiver guilt.
---
Dr. Peter Rabins, MD, MPH, Johns Hopkins Hospital: Caregiving for people with chronic
diseases is challenging no matter what the illness.
One of the unique aspects of caring for someone with Alzheimer's disease is that caregivers almost always feel guilty in some way.
Continued below video…
I've come to believe that it is actually the disease itself, Alzheimer's disease, and the kind of care that people need, that engenders or causes that guilt in caregivers.
Caregiver: You have to realize that it is OK to get annoyed, because they forget.
Caregiver: Some days, I want to cry. I remember the day I sat down with him, took his hand and I said, "Honey. I'm not doing a very good job. You don't know what I want and I am getting cross. Now what we have to do is ask God to help us."
1) Recognize You Are Doing the Best You Can
Dr. Rabins:: Almost every caregiver becomes frustrated or angry at some point in caring for someone with Alzheimer's. I think that is one of the causes of the high rate of guilt. Because this is almost universal, I think it's important to keep in mind that most of the time, the caregiver is doing a good job.
Caregiver: I was probably more harsh than I should have been initially because I really did not believe this could be happening. So when she would make mistakes or be forgetful, I would think that maybe it was a little bit of an attention-getting
thing. So when she would do that, I would be
pretty severe. "Mom, you know, come on, let's do it this way." Or, "Mom, what's wrong with you." And I feel really bad about those things
now.
Caregiver: I would set in my living room. I would look at the front door and think, "I would like to go out that
door and never come back."
2) Understand that Changes in Behavior are Part of the Disease
Dr. Rabins:: Understanding that it is the disease that's changing the person,
that they're not doing things on purpose, and that your frustration and anger is often
in response to these changes that the disease is producing, can help people
understand and put in perspective the fact that they get angry and therefore feel guilty.
Caregiver: I kept expecting more of him, forgetting that he really
couldn't do any better. Sometimes it really upset me when I
was
making such demands on him. Then I
thought that this is cruel, he doesn't know any better.
Dr. Rabins:: It took a
good while for you to understand?
Caregiver: It took a long while and I look back and am ashamed of my actions.
3) Develop Realistic Expectations
Dr. Rabins:: One way to avoid becoming so frustrated
and feeling guilty is to have realistic expectations. Understand that the disease is changing the person. If you can, adapt to how they're changing, and the fact that they
can no longer do things that they did yesterday or last month. This can help lessen the likelihood that
you'll be frustrated, and then lower the likelihood that you'll
become guilty or down on yourself.
4) Modify Expectations as the Disease Progresses
Dr. Rabins:: Do you think something could have
been done years ago in the past would have made
this an easier adaptation?
Caregiver: I guess the area about forcing her to do
things that she couldn't and that anxiety. I think if I had really listened more in and had talked to more
people that had explained to me that this is the progression, this is what you
can expect, that it would have been easier for me to
be kinder, sooner.
5) Accept New Behaviors and the Loss of Social Skills
Dr. Rabins:: One of the hardest things to adapt to is
that the disease often takes away a person's social graces. People do things that they never would
have done before. That's hard to see.
Caregiver: We went out
to dinner recently. She picked up the meat with her fingers. My immediate reaction was to look around, like, "Oh my goodness! I can't believe my
mother's doing this!" Because, looking at her, you could not tell
that she has Alzheimer's. Then I thought, "How ridiculous!" You
know, here I am worried about what people are thinking. I should be worried about my mother, but
truthfully my initial reaction was, "What will people think?" The first time something happens, if you
act in a way that
you're not proud of, you should be able
to forgive yourself and say, "Okay, you know it's alright. Maybe I wasn't the way I should have been, but the next
time, I will be ready for this."
6) Remember: Caregiving is About Love
Dr. Rabins:: I think it helps put caregiving in the
right context, to help us realize that part of our
doing it is coming out the love and caring that we have for the old person. If we can put aside some the frustration guilt and anger, and the love is still
there, that the reward of caregiving them can
come to the forefront.
Caregiver: I think we just kept trying to stress
that it wasn't her fault and we loved her and we were going to
work with her.
Dr. Rabins:: Does she respond to hugs and touching?
Caregiver: Oh, yes! And I think they're
important to do so that she did doesn't feel that she's not loved. I think it's very
important that she constantly feels this love surrounding her.