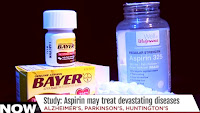 MEDICATIONS VIDEO + ARTICLE:
Aspirin cleared some Alzheimer's plaque in the lab. Plaque is the best-known culprit behind Alzheimer's. Learn about this potential new role for the world's most popular pill.
---
A low-dose aspirin regimen may represent a new avenue for reducing Alzheimer's disease pathology, according to new research in a mouse model of the disease published in JNeurosci. The study identifies a new role for one of the most widely used medications in the world.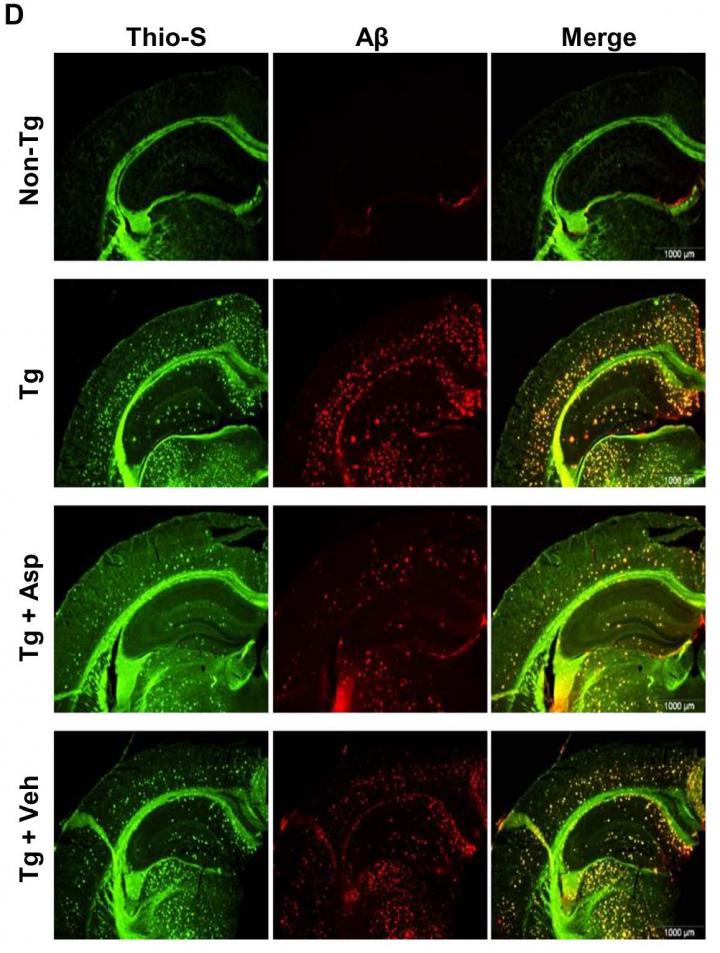 IMAGE:
ASPIRIN TREATMENT REDUCES AMYLOID BETA BURDEN IN THE HIPPOCAMPUS OF 5XFAD MOUSE MODEL OF AD.
(CREDIT: CHANDRA ET AL., JNEUROSCI (2018))
Although the exact cause of Alzheimer's disease progression is unknown, impaired clearance of toxic amyloid beta, especially from the hippocampus, is a leading mechanism. Activating the cellular machinery responsible for removing waste from the brain has therefore emerged as a promising strategy for slowing the disease.
Building on studies demonstrating a link between aspirin and reduced risk and prevalence of Alzheimer's disease, Kalipada Pahan and colleagues show that this common over-the-counter medication decreases amyloid plaque pathology in mice by stimulating lysosomes — the component of animal cells that help clear cellular debris.
The research adds to aspirin's established uses for pain relief and for the treatment of cardiovascular diseases.
REFERENCE:
SOURCE:
MORE INFORMATION:
JNeurosci, the Society for Neuroscience's first journal, was launched in 1981 as a means to communicate the findings of the highest quality neuroscience research to the growing field. Today, the journal remains committed to publishing cutting-edge neuroscience that will have an immediate and lasting scientific impact, while responding to authors' changing publishing needs, representing breadth of the field and diversity in authorship.
The Society for Neuroscience:

The Society for Neuroscience is the world's largest organization of scientists and physicians devoted to understanding the brain and nervous system. The nonprofit organization, founded in 1969, now has nearly 37,000 members in more than 90 countries and over 130 chapters worldwide.