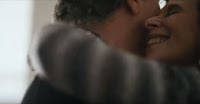 VIDEO:
See the good energy music adds to families living with Alzheimer's. Learn how music brings a fresh lift every day.
---
Caring Through Music is a new video to document the transformative power of music, and documents how relatives and caregivers use music to spark memories for people with Alzheimer's.
Inspired by research showing that music is stored in a part of the brain not affected by the same degree of memory loss associated with Alzheimer's or dementia, Caring Through Music explores how music is being used as a tool to reconnect with memories of the past in the lives of those affected by these cognitive diseases.
Video Director Jeppe Kolstrup, whose own grandfather had Alzheimer's, and his team filmed people with dementia and Alzheimer's and their caregivers listening to music from their past at CaringKind's New York City headquarters.
"My vision was to allow the viewer a window into the experiences, good and bad, that the relatives of a person with Alzheimer's go through," said Jeppe Kolstrup. "I want to bring the viewer through some of the same emotions that the families go through – and really underline the effects of music on the person with Alzheimer's and everyone involved in their care."
SOURCE: