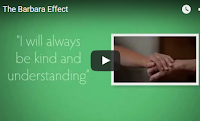 SPECIAL MOVIE:
"BARBARA", a highly successful British film series on dementia, improves relationships between people with dementia, caregivers, doctors & nurses. See this 6-episode summary. Dementia is universal – everyone needs to understand how to be helpful. That's why "Barbara" is a must-see.
---
Find out more about staff training with Barbara's Story.
SOURCE:
Created by nurses at Guy's and St Thomas' to raise awareness of dementia among staff.