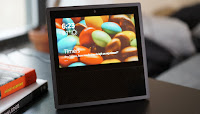 VIDEO & CUSTOMER REVIEWS: Mom is now almost 95 and she has short term memory dementia, she's in great spirits but I really can't teach her anything technical, like dialing a phone or even pressing a memory dial button. I thought I'd try setting Amazon's ECHO-SHOW next to her rocking chair.
---
Mom lives near my sister and is 2 hours away so visiting is always a bit of a project. I thought I'd try setting Amazon's ECHO-SHOW next to her rocking chair. I can now "Drop-in" on her every day and share some face time with her, visit with her grand daughter, see the dog whom she LOVES, and just make her smile.
The beauty is that there is no interaction needed on her end, the Caregivers and my Mom love this setup. The fact that I can use my phone from anywhere and actually see and talk to Mom, and show her things is hugely entertaining and comforting for Mom, and everyone in the family. So I say with extreme gratitude, Thank You Amazon for creating an amazingly personally helpful tool for the elderly.
Echo Show is available in small (5 inch), medium (8 inch) or large (10 inch) sizes and can be an invaluable assistant to seniors in various stages of dementia.
Hear medication reminders
See Amazon Videos
Listen to music while reading the on-screen lyrics
Access security cameras
Browse photos
Check weather forecasts
Tell it what to add onto to-do and shopping lists
Watch video flash briefings
Listen to Audible audiobooks,
and more… All hands-free… just ask.
The advantages and benefits it can provide are almost endless, including features like:
Call
almost anyone hands-free, or make video calls to family and friends
with an Echo Spot, Echo Show, or the Alexa App. Instantly connect to
other Echo devices around your home.
See lyrics on-screen with Amazon Music. Just ask to play a song, artist or genre, and stream over Wi-Fi. Also, stream music on Pandora, Spotify, TuneIn, iHeartRadio, and more.
Powerful, room-filling speakers with Dolby processing for crisp vocals and extended bass response. Play your music simultaneously across Echo devices with multi-room music (Bluetooth not supported).
Ask Alexa to show you the front door or monitor the baby's room with compatible cameras from Amazon and others. Turn on lights or the TV, set thermostats, control Amazon Video on Fire TV, and more with WeMo, Philips Hue, Sony, ecobee, and other compatible smart home devices.
With eight microphones, beam-forming technology, and noise cancellation, Echo Show hears you from any direction—even while music is playing
Always getting smarter and adding new features, plus thousands of skills like Uber, Allrecipes, CNN, and more.