Lewy body dementia (LBD) affects 1.3 million Americans. It is the second most common cause of progressive dementia. However, it is the most misdiagnosed form of dementia.
Misdiagnosing Lewy Body Dementia
Parkinson's Disease: LBD may be misdiagnosed as Parkinson's disease because it's associated with "parkinsonism" or movement symptoms that resemble those of Parkinson's disease.
Alzheimer's Disease: LBD is often misdiagnosed as Alzheimer's. Many of the symptoms ar similar. Furthermore, Alzheimer's is the most common type of dementia, affecting more than half of elders with dementia. Therefore, Alzheimer's is usually the first diagnosis that comes to mind when doctors see signs of dementia.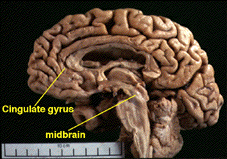 In Lewy body dementia, a loss of nerve cells is seen from the midbrain region where the substantia nigra is located. Shrinkage of the brain is particularly seen in the temporal lobe, parietal lobe and the cingulate gyrus.
LBD is not well recognized by physicians, especially primary care physicians and other general practitioners.
Recognizing LBD at its earliest stage is critical not only because an early diagnosis may protect people with Lewy body dementia from treatments that can worsen their symptoms or cause severe side effects, but also because it ensures individuals receive comprehensive symptom management that could improve their quality of life.
2 Types of LBD
Lewy body dementia refers to two related diagnoses:
Parkinson's disease dementia (PDD)
Dementia with Lewy bodies (DLB).
Both PDD and DLB are considered Lewy body dementias. The difference is in the presentation of symptoms based on the "one-year rule." With DLB, cognitive (thinking) symptoms that interfere with daily living appear before or within a year of movement problems resembling Parkinson's disease. With PDD, cognitive symptoms do not typically develop until more than a year after movement problems begin.
Early Diagnosis
"An early and accurate diagnosis may be lifesaving," says Howard I. Hurtig, M.D., Chair, Department of Neurology, Pennsylvania Hospital, and Elliott Professor of Neurology. While the symptoms of LBD may be similar to Alzheimer's and Parkinson's disease, the treatment strategy is more challenging because fewer medications can be used safely. Hurtig warns, "The avoidance of medications that can worsen the symptoms of LBD cannot be overemphasized. Every patient with LBD and their caregiver(s) should memorize the list of acceptable and forbidden drugs."
Why is Diagnosis So Complicated?
Lewy body dementia (LBD) is characterized by an abnormal build up of Lewy bodies (alpha-synuclein protein deposits) in the areas of the brain that regulate behavior, memory, movement and personality. The most prominent symptoms of Parkinson's disease affect motor abilities. Alzheimer's disease primarily affects areas of the brain involving learning and memory. What complicates diagnosis is that some people may have changes in the brain from more than one memory disorder. Most often a specialist like a neurologist or geriatric psychiatrist will distinguish symptoms to achieve an accurate diagnosis, sometimes with the help of a neuropsychologist, who plays an important role in understanding cognitive problems.
---
More Information for Healthcare Providers and Families:
Education about LBD is urgently needed. The Lewy Body Dementia Association offers healthcare providers, individuals with LBD and caregivers a range of information, resources and support. Both experts and concerned families can download a Checklist of Lewy Body Dementia Diagnostic Symptoms to facilitate their discussion. To receive a packet of information or to access other resources about LBD, visit http://www.lbda.org/lewywho/.
Source: