Alzheimer's disease is a complex and challenging condition that affects millions of people worldwide, including our loved ones. Explaining Alzheimer's to young children can be a daunting task, but it's essential to help them understand and cope with the changes they may see in their family members. In this blog post, we'll explore how to approach this sensitive topic in a way that is age-appropriate, compassionate, and informative.
1. Start with the Basics
When talking to young children about Alzheimer's, it's important to keep it simple and straightforward. Begin by explaining that Alzheimer's is a disease that affects the brain. You can say something like, "Sometimes, when people get older, their brains can get sick, just like how our bodies can get sick."
2. Use Age-Appropriate Language
Use words and phrases that your child can understand based on their age and developmental stage. Avoid medical jargon and complicated explanations. Compare it to familiar concepts. For example, you could say, "Think of our brain like a toy that lights up and makes sounds, and Alzheimer's is like a missing battery that makes it not work correctly."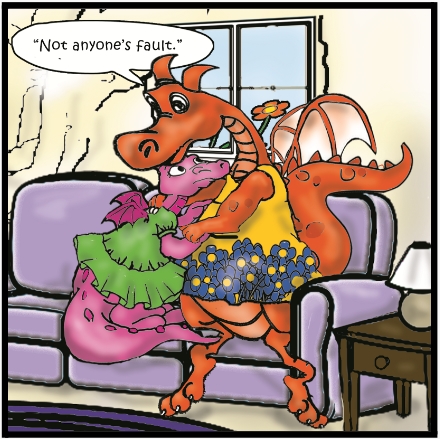 3. Emphasize It's Not Their Fault
Young children may blame themselves for their loved one's condition.
Reassure them that Alzheimer's is not anyone's fault, and they didn't do anything wrong.
It's just a disease that some people develop when they get older and that doctors are working to find ways to slow it down or cure it, like other diseases.
4. Discuss Memory Changes
Explain that Alzheimer's often causes memory problems. You can say, "Sometimes, Grandma/Grandpa/Auntie might forget things or repeat themselves, but it's not because they don't love you. Their brain is just having a hard time remembering things."
5. Encourage Questions
Let your child know that they can ask questions anytime they want. This helps them feel more in control and allows you to address any concerns or misconceptions they may have.
6. Be Patient and Reassuring
Young children may have difficulty processing this information and may need time to absorb it. Reiterate your love and support for them and their loved one. Remind them that no matter what happens, you'll always be there for them.
7. Use Visual Aids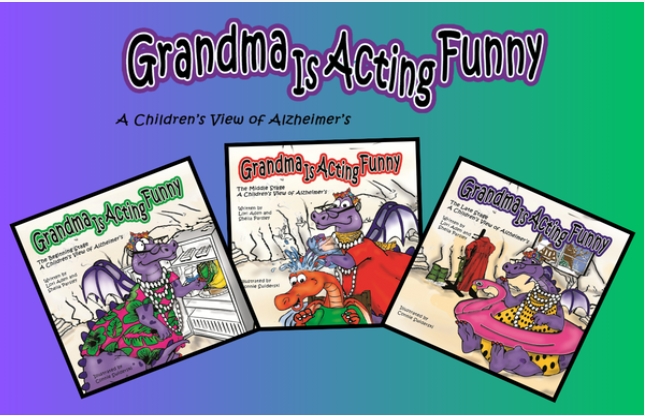 Children often respond well to visual aids. My sister and I wrote a 3-part book series for young children that shares what is happening in the three major stages of Alzheimer's. We found that one book would be too large to share everything that is occurring in their grandparent's lives. We also understood that a loved one can have Alzheimer's for many years. A young child may be experiencing Alzheimer's with their Grandma/Grandpa during any of the three stages. Choosing the stage Grandma/Grandpa is in will be easier to explain the behaviors they are noticing.
We also decided to use colorful, whimsical dragon characters to appeal to their imaginations instead of characters that look like humans. Information about these books can be found at the end of the article.
8. Share Feelings
Encourage your child to express their feelings about the situation. Let them know it's okay to feel sad, confused, or even angry. Sharing their emotions can be therapeutic and help them process what's happening.
9. Maintain Routines
Children thrive on routines and stability. Try to maintain as much normalcy in their lives as possible. Explain that some things may change due to the illness, but you'll work together to adapt and create new routines.
10. Seek Support
Remember that you don't have to navigate this journey alone. Reach out to support groups or counseling services that specialize in helping families affected by Alzheimer's. They can provide guidance and resources for explaining the disease to children.
Explaining Alzheimer's to young children requires patience, empathy, and open communication. By using age-appropriate language, offering reassurance, and maintaining routines, you can help your child understand the disease and navigate the challenges that come with it. Remember that your love and support are the most significant sources of comfort during this difficult time, and together, you and your child can face Alzheimer's with strength and compassion.
More Information:
Children's Book Series
Written by Lori Aden and Sheila Parsley
To order our children's book series, go to https://irememberme.life or to Amazon. We have two series based on what is most appropriate for your family. 
Grandma is Acting Funny: The Beginning Stage – A Children's View of Alzheimer's (Royal Dragonfly Book Award – Honorable Mention for Children's Picture Books 5 and Younger.)
Grandma is Acting Funny: The Middle Stage – A Children's View of Alzheimer's
Grandma is Acting Funny: The Late Stage – A Children's View of Alzheimer's
Grandpa is Acting Funny: The Beginning Stage – A Children's View of Alzheimer's
Grandpa is Acting Funny: The Middle Stage – A Children's View of Alzheimer's
Grandpa is Acting Funny: The Late Stage – A Children's View of Alzheimer's
About the author:
Dr. Lori Aden is an educator by trade with over 32 years of experience in K12 and higher education. Lori used her education experience to research Alzheimer's caregiving from many different perspectives while caring for her mother for six years. Lori successfully completed the EssentialALZ© Alzheimer's Association Training and Certification program to become a more knowledgeable advocate for Alzheimer's caregiving and education. She works full-time as a program coordinator for one of the largest education service centers in Texas and part-time at a senior living center. However, her proudest roles are wife, sister, mom, and grandma. Most importantly, she is the devoted daughter of Marylin, who is the inspiration behind both children's book series and her first book, "I Remember Me – The Mom Chronicles."
Contact Dr. Lori Aden by clicking this link.
Follow her on Facebook at I Remember Me  Publishing.