Recipe by: Dr. Michael Greger & Robin Robertson
One of the ingredients of curry powder, which is one of my favorite spice mixes, is turmeric. (See the reference below on turmeric's benefits regarding dementia rates in India.) Besides being so good for you, turmeric gives the blend its beautiful yellow color. The curried chickpea filling in this recipe also great on top of roasted sweet potatoes, in lettuce wraps, or served as a dip.
COURSE: Main Course
DIFFICULTY: Moderate
SERVINGS: 4

INGREDIENTS
▢ 1½ cups cooked or 1 15.5-ounce BPA-free can or Tetra Pak salt-free chickpeas, drained and rinsed
▢ 1 ½ teaspoons curry powder, or to taste
▢ 1 teaspoon lemon juice
▢ 1 teaspoon date sugar
▢ ¼ teaspoon white miso paste
▢ Savory Spice Blend to taste
▢ ½ cup chopped celery
▢ ⅓ cup shredded carrot
▢ ⅓ cup chopped cashews
▢ ⅓ cup raisins
▢ 1 firm sweet apple, cored and chopped
▢ 1 tablespoon chopped scallion
▢ 2 cups shredded lettuce or dark leafy greens of choice
▢ 4 100% whole-grain tortillas
INSTRUCTIONS
In a food processor, combine 1 cup of the chickpeas with the curry powder, lemon, date sugar, miso, and Savory Spice.
Blend to taste with 3 to 4 tablespoons of water. Process until smooth.
Add the remaining ½ cup of chickpeas and the celery, carrot, cashews, raisins, apple, and scallion, and pulse just to combine and break up the chickpeas a bit.
Taste and adjust the seasonings, if needed.
To assemble, divide the chickpea mixture evenly onto the tortillas and top each with the lettuce.
Tightly roll up each of the tortillas to make a wrap.
Cut each wrap in half and serve immediately.
---
Source:
Reference:
The following map illustrates rates of dementia around the world. Note India, in light blue, has one of the lowest rates around the world. Multiple researchers speculate this is diet related, with their focus on the heavy turmeric component in Indian cuisine.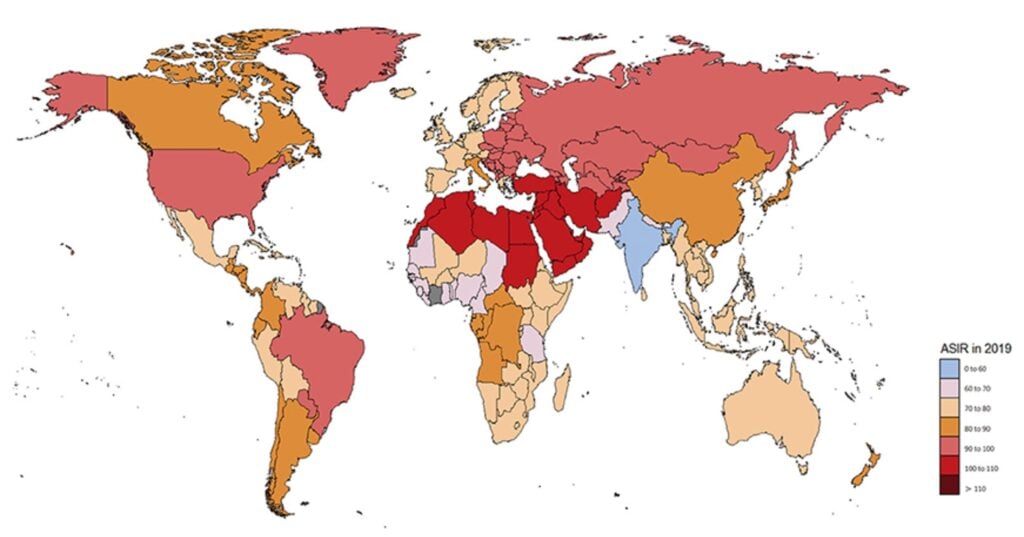 Frontiers in Aging Neuroscience: Global, regional, and national burden of Alzheimer's disease and other dementias, 1990–2019