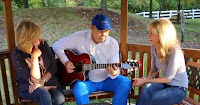 VIDEO + TRANSCRIPT:
As country legend Glen Campbell entered the final stages of Alzheimer's, his family allowed NBC to spend some time with him. See this uplifting video.
---
Transcript:
I must say I didn't know what to expect when we journeyed to the memory care facility outside Nashville where country legend Glen Campbell has been living since last spring. More than 5 million people in America have Alzheimer's, with a new diagnosis every 67 seconds. Like those millions of others, it has touched my family, too.
Continued below video…

Glenn Campbell's New Movie is Called "I'll Be Me".
See the Official Movie Trailer.
Before heading to Nashville, I had been deeply moved by the new documentary "Glen Campbell… I'll be Me," produced by James Keach and Trevor Albert. (It's opening in New York and Nashville Oct. 24; across the country after that.) The film captures Campbell's descent into Alzheimer's — from the diagnosis through a 151-date farewell tour and the triumphs and challenges. As Keach puts it, the film portrays "the gnarly truth."
Campbell had decided it was only by being completely open about his battle with the disease that he could hope to help others cope with the stigma and shame that often accompany the diagnosis. The unblinking portrait is familiar and heartbreaking to anyone who has seen a loved one travel this road. Campbell's sweetness and humor is on full display along with his frustrations as the disease worsens.
Both backstage and on stage, the tour video is solid gold. Even as Campbell's memory fades — and he is forced to rely on the teleprompter for the lyrics to even his most familiar hits — his ability to play the guitar remains extraordinary. Shooting for the film ended nearly two years ago when the disease was still in its relatively early stage — progressing during the tour from Stage 2 to 4. Now, we were told, he is in late Stage 6 of the disease. Stage 7 is the end of the line. What, I wondered, would Campbell be like now?
Campbell's wife of 32 years, Kim Woollen, took me for a visit with him. Before the visit I asked her if her husband still plays the guitar. She told us that he has two guitars with him and that "sometimes he gives us a big surprise, he'll pick it up and we're like, whoa! Where did that come from?"
In March, Dr. Ronald Petersen, director of the Mayo Clinic Alzheimer's Disease Research Center and Campbell's doctor, advised his wife that it was time to move him to a specialized memory care facility that could care for him 24 hours a day.
Kim tells me she is at the facility virtually every day, feeding her husband his lunch and bathing him.
On the day of our visit, he brightens when he sees her. And happily joins us for a stroll holding both our hands. While there is no conversation possible now, he decides to play the guitar for me. According to Dr. Petersen, motor memory is often the last to go.
For all that has been lost, music remains in the man.
Glenn Campbell's New Movie is Called "I'll Be Me".
See the Official Movie Trailer.

SOURCE: